Using Tretinoin as an anti-aging treatment may become your best friend. I'm in the 40 and up crew and proud to be! If you're not in your 40's yet, wait and see. It's a pretty great moment in your life! If you're past it – Congrats! I'm expecting my 50's, 60's and up to be even more fabulous, and I can't wait to join you! I'm excited to share my experience with Tretinoin as an anti-aging treatment safe for my allergic contact dermatitis.
Anti-Aging has been all about trial and error
I have tried every anti-aging serum and cream out there. I've actually been using a high-end skincare regimen since I was in my tweens, thanks to my momma and grandmother, who taught me to care for my skin. The problem I have had in the past 10 years is that most serums and creams have a botanical extract or preservative I cannot use.
For the last few years, I've tried out a wide variety of safe anti-aging products on my SkinSafe and ACDS CAMP lists. The problem is they have caused me lots of trouble. I learned that I am sensitive to Niacinamide. There's no real connection that I can find in my Allergic Contact Dermatitis allergens; I cannot tolerate them. You'll find that, too, some things that are awesome for me and safe for us you can't tolerate. That's normal for everyone, not just those of us with Allergic Contact Dermatitis.
Minimal routine was working for me
I even went completely minimal and used a double cleanse and simple moisturizer combined with a facial sunscreen. It was fine, and I was doing great with that. But that yearn for anti-aging and help with the wrinkles I was beginning to see still there. I had an appointment with my dermatologist for a skin cancer check (PSA here – if you haven't had your skin check this year – make your appointment!! My friend Dana tells me this every year, and I am so thankful for her Melanoma story, and it prompts me to check and double-check!).
A dermatologist must prescribe Tretinoin
While at the dermatologist, I asked her if I would be a candidate for retinoid Tretinoin as an anti-aging treatment. My teens have used it, and once seeing the ingredients and noting it on my SkinSafe list as safe for me, I was anxious to hear her thoughts. She said YES! That would be a great option for you to try. Enter major happy face.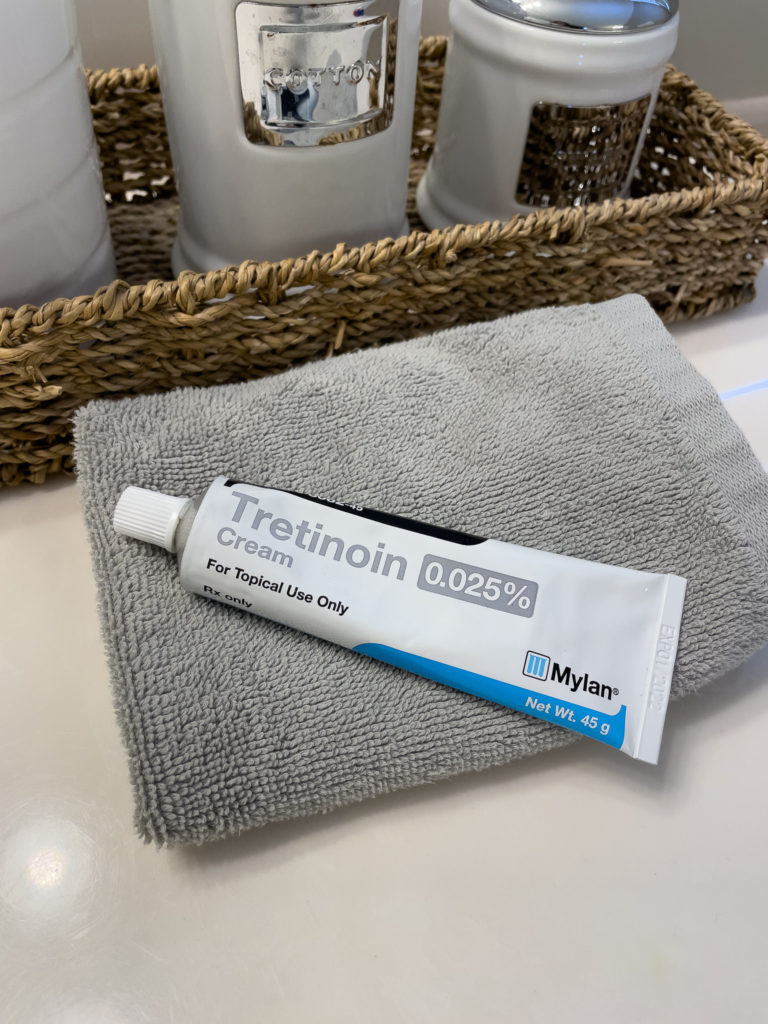 The superhero Tretinoin as an anti-aging treatment
Before you run out and ask your dermatologist for a prescription for Tretinoin as an anti-aging treatment, I would be amiss not to request that you be in a non-reactive state with your Allergic Contact Dermatitis or eczema. Tretinoin, while minimal ingredients, can be a lot for your skin to get used to, and if you're already having a reaction, it could definitely make that worse.
I am using the Tretinoin Cream 0.025% (RX), 45g, produced by Mylan. It is Top Allergen Free, as noted by SkinSafe, and is free from fragrance, propylene glycol, MCI/MI, and common preservatives like formaldehyde. The gel would not be safe for most, so make a note of that. It's important to recognize when I recommend a product; it is a particular recommendation for that single product. Note the difference here between the Tretinoin as an anti-aging treatment – there is a Cream, Tretinoin Gel, and Differin Adapalene Gel. Vastly different.
---
Ingredients of Popular Retinoid Formulations
Prescription Tretinoin Cream by Mylan Ingredients:
Active ingredient: tretinoin
Inactive Ingredients: stearic acid, isopropyl myristate, polyoxyl 40 stearate, stearyl alcohol, xanthan gum, sorbic acid, butylated hydroxytoluene, and purified water
SKINSAFE SAFE FOR ME
---
Prescription Tretinoin Gel Microsphere by SPEAR Dermatology Ingredients:
Active ingredient: tretinoin
Inactive ingredients: benzyl alcohol, butylated hydroxytoluene, carbomer 974P, Cyclomethicone and dimethicone copolyol, disodium EDTA, glycerin, PPG-20 methyl glucose ether distearate, propylene glycol, purified water, sorbic acid and trolamine (*I bolded the ingredients unsafe for me)
SKINSAFE NOT SAFE FOR ME
---
Over-the-Counter Differin Adapalene Gel 0.1% Ingredients:
Active ingredient: adapalene 0.1% (retinoid)
Inactive Ingredients: carbomer 940, edetate disodium, methylparaben, poloxamer 182, propylene glycol, purified water, and sodium hydroxide. It may contain hydrochloric acid to adjust pH. (*I bolded the ingredients unsafe for me)
SKINSAFE NOT SAFE FOR ME
*(important to note that Propylene Glycol is an irritant for me, if you have Balsam of Peru or fragrance only allergies, this could be a great option for you)
---
Many Myths and Truths about Retinoid Tretinoin as an anti-aging treatment
There are many myths and truths about Tretinoin as an anti-aging treatment. We already know the beauty industry is a multi-billion dollar industry, so it is no surprise why they would rather sell you serums and creams versus purchasing a simple Retinoid cream for your anti-aging needs.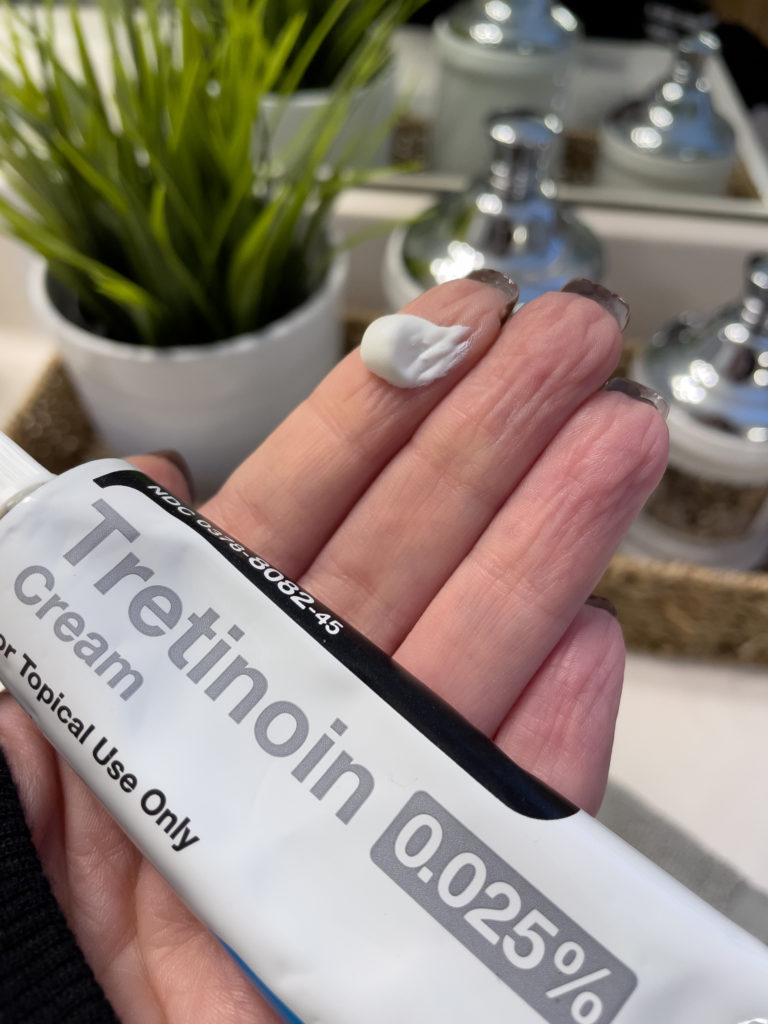 Side effects in the beginning do subside
While there are some side effects to using Tretinoin as an anti-aging treatment, symptoms of allergic contact dermatitis are not commonly seen, according to this medical journal article by Wiley Online Library. In fact, allergic contact dermatitis is more commonly seen from topical acne treatments using Benzoyl Peroxide and Benzyl Alcohol. Cases diagnosed as allergic contact dermatitis (ACD) caused by tretinoin may be actually irritant contact dermatitis cases (source).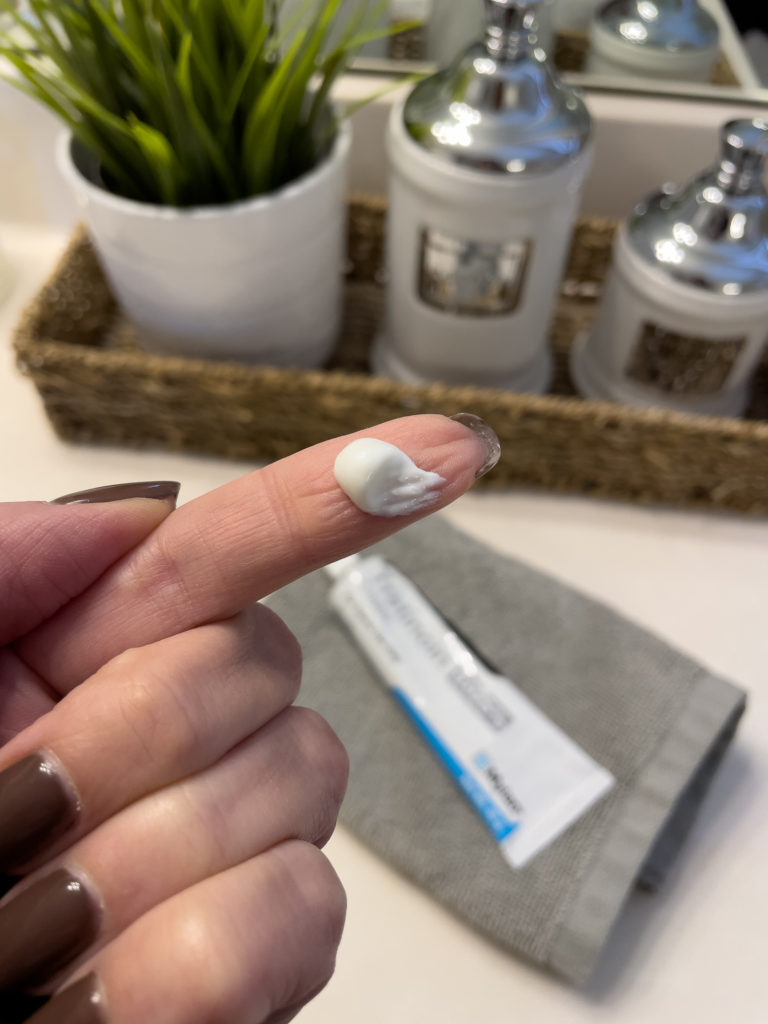 There are a lot of myths surrounding the use of Retinoids like Tretinoin as an anti-aging treatment
Myth #1: Retinoids can thin your skin
Truth #1: There can actually be an enhanced thinning and exfoliation of the skin's uppermost layer – the stratum corneum – when you first begin using it. However, long-term use of retinoids can actually lead to a thickening of the epidermis – one way it can help combat the aging of the skin.
Myth #2: Retinoids can increase your risk of sun exposure
Truth #2: Retinoids break down in sunlight (which is why it is recommended to be used at bedtime); however, there is actually no data supporting this claim. You don't have to stop using Retinoids in the summer. I always recommend a facial sunscreen be used daily.
Myth #3: Retinoids work by exfoliating your skin
Truth #3: While you may see an initial increase in skin peeling, this is a side effect and not an exfoliation. It will go away as your skin normalizes. Retinoids actually increase the production of collagen in the skin.
Myth #4: You can't use Retinoids around your eyes
Truth #4: You actually want to use retinoids around your eyes! The skin around the eyes is thin and more susceptible to damage from the sun. Retinoids can help combat photodamage and slow the appearance of fine lines and wrinkles. Win-Win. I actually don't rub the cream on my eyelids. When I follow up with my moisturizer, in the process, a small amount of the Tretinoin is actually moved to my eyelids as I move the moisturizer around.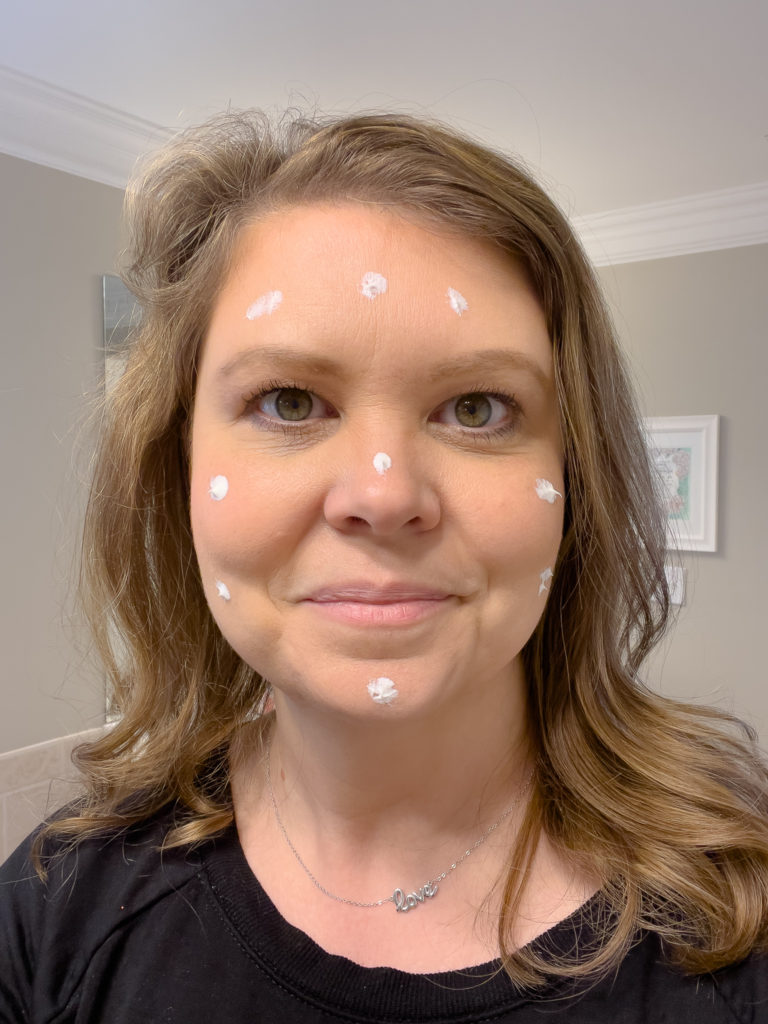 Several Helpful Hints for Beginning a Retinoid like Tretinoin
Be PATIENT!, once at night every 2-3 days at first and slowly build up to nightly over the first month to 6 weeks
Use it at night
It only take a little, a small pea-sized amount, dotted evenly around the skin
Apply to slightly damp or dry skin. Wet skin will allow deeper absorption and can cause irritation
Apply a simple moisturizer directly after applying the retinoid
Don't use any other actives or anti-aging products. A simple cleanser and moisturizer is ALL you need!
If you see irritation, take a 1-2 day break!
As an anti-aging treatment, using Retinoids like Tretinoin is the bee's knees in my book, a true hero active ingredient. If you only use one thing, this is the thing to use.⠀Good luck! Let me know how your journey goes.
As always, I'm in your corner!