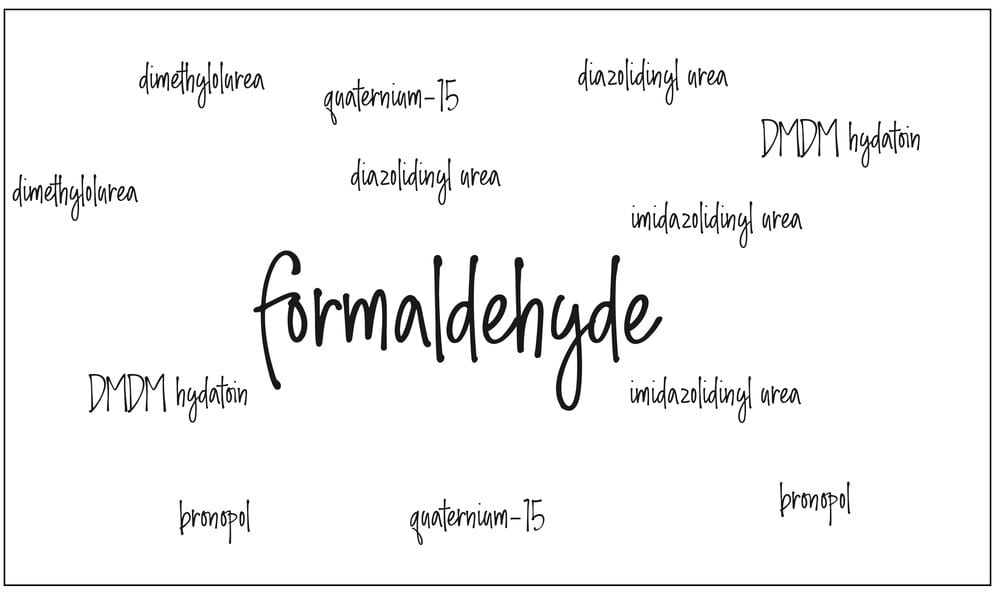 Formaldehyde Allergy
Formaldehyde, undoubtedly one of the most common causes of allergic contact dermatitis, can be found as a pervasive chemical in our everyday environment. I suffer from a formaldehyde allergy and although I wasn't exposed to formaldehyde in a work environment, many find themselves becoming sensitized to formaldehyde in a work situation. As a prominent allergen, Formaldehyde is commonly diagnosed as an Allergic Contact Dermatitis allergy. Read more about What is ACD here.
Formaldehyde in the workplace
Formaldehyde can affect the body of those who work with it. Workers in multiple industries find formaldehyde a part of their everyday work lives. Those in the embalming and mortuary business are an obvious culprit for formaldehyde exposure and a subsequent formaldehyde allergy. Along with those working in the plastic, wood, and paper industry, many working in a lab setting can also find formaldehyde and its releases in their workplace. In addition, textile and metal workers, as well as machinists, also could become sensitized to their work environment.
Formaldehyde as a preservative
Formaldehyde is a common preservative used in cosmetic and personal care products. While you'll never find "formaldehyde" listed as an ingredient, it lurks in several ingredient names as a chemical that can release formaldehyde. Look for these ingredients that are formaldehyde releasers and avoid them: dimethyl urea, Quaternium-15, imidazolidinyl urea, Diazolidinyl Urea, Bronopol, DMDM hydantoin. Avoiding these preservatives will go a long way in reducing your exposure.
Is formaldehyde in my clothes?
For those sensitized to formaldehyde, another area of concern is clothing. Formaldehyde resins are often found in blended fabrics such as cotton/rayon blends or cotton/polyester blends. I notice this mostly in my socks of all places becuase these resins can stay with some blended fabrics even when washed. Washing doesn't always make an item safe. When I wear a sock with a resin, my body immediately notices it, and I have to remove them. Finding socks has been a real challenge.
Wearing clothes that contain formaldehyde resins can cause a flare-up of allergic contact dermatitis.
Avoid these clothes and finishes
Depending on the fiber blend of a clothing item, some may be safer than others. Avoid the following:
permanent press
anti-cling finishes
anti-static finishes
chlorine resistant finishes
stiffening or anti-curl finishes on lightweight knits
waterproof finishes
perspiration proof finishes
mothproof finishes
mildew resistant fabrics
screen printed fabrics
suede
chamois
While this seems like a lengthy list, formaldehyde-sensitive individuals can usually successfully wear clothing made from a single fiber such as 100% cotton, polyester, silk, nylon, or wool.
Other Possible Exposures Include:
Glues

Glues (school glues and others)

Rubber Cement
Smoke

Formaldehyde is a component of smoke from burning wood, coal, charcoal, cigarettes, and cigars.
Coatings

Coatings such as phenol, melamine, urea, sulfonamide, and cashew nutshell-type resins (a byproduct of processing cashews – often used in brake linings)
Dry Cleaning

Dry cleaning spotting agents
Printing

Printing-etching materials, inks (marking), sealers for cylinder die rolls, "auto prime" (used in offset printing machines)
Paints

Paints – primers, model toy, and gloss enamels, tempera, fingering, anticorrosion paint, paint stripping agents
Toxoids

Toxoids (a chemically modified toxin from a pathogenic microorganism, which is no longer toxic but is still antigenic and can be used as a vaccine) and vaccines
Preservatives

Preservative and coagulant of rubber latex
A preservative in dairy products
Mildew Preventative

Mildew preventative in fruits and vegetables
Cellulose Esters

Cellulose esters used as binders, coatings additives, film formers, or modifiers in automotive, wood, plastic, paper, and leather coatings applications
Medications

Medications such as wart remedies, anhidrotics/sweat prohibitor, mouthwashes (Formitol), denatured alcohol, orthopedic casts, renal dialysis unit, root canal preparation disinfectant (Forno-Cresol)
Polishes

Polishes for automobile, cement floor, shoe, suede
Cleaning Agents

Cleaners, deodorizers, disinfectants in and around the home and workplace
Personal Care Products

Personal care products and cosmetics
Toners

Photographic plates, papers, bring-flattening solutions, hypo-test solution, hardeners, and toners
Resins

Formaldehyde phenolic resins and formaldehyde urea plastics found in buttons, jewelry, adhesives, and footwear
By avoiding formaldehyde, many with this allergen will see a relapse in their allergenic reactions.