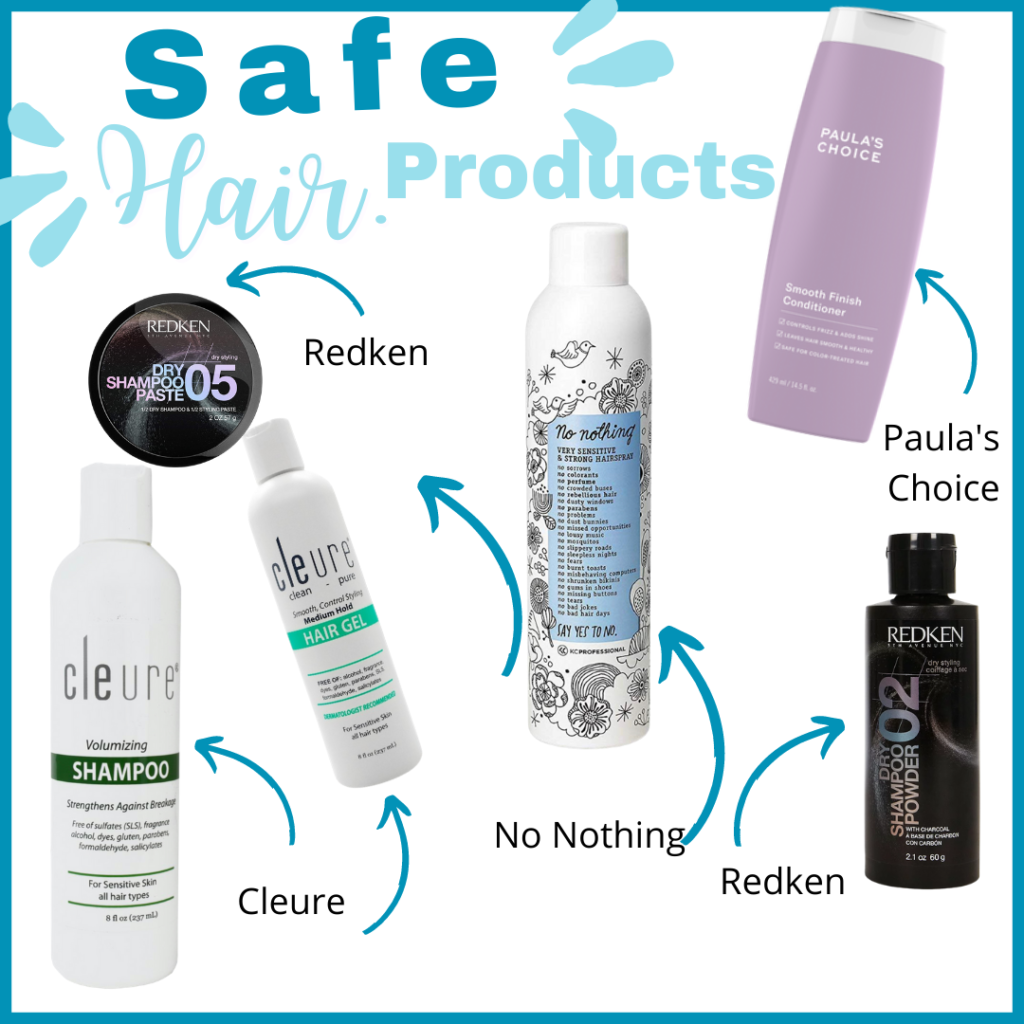 This might be the most asked question at The Allergy Life! What do you use for allergy-safe hair products for Allergic Contact Dermatitis, and do you dye your hair? I understand the curiosity for sure. It's partly out of wanting to feel like everyone else and also just out of necessity!
I promise, you are normal and so am I!
One of the biggest hurdles to overcome with Allergic Contact Dermatitis is truly the desire to feel like you're normal. Since my allergies have ramped up so much in the past few years, I have had to alter my routines, back out of long-term commitments, change my travel behaviors, the list goes on and on. I get it. This Allergy Life can be a major struggle.
One of my desires at The Allergy Life is to show you my life and how I manage my allergies with a full-time family. How I navigate it all and the tips and tricks I've found along the way to be successful – and today how I found allergy-safe hair products for Allergic Contact Dermatitis. In the beginning of my diagnosis, I had no ide for Allergic Contact Dermatitis. I hear from you daily how helpful you find this space, and I couldn't be more grateful to you and your reach outs. We are in this together, and I'm thankful for you too!
Safe Shampoo Hair Products for Allergic Contact Dermatitis
You'll find lots of products I use safely all over this space. One thing I'm happy about is finding allergy-safe hair products for Allergic Contact Dermatitis. In the beginning of my diagnosis, I had no idea what to use that was safe. It had me really frustrated and left me experiencing lots of reactions.
I wrote about my favorite shampoo from Cleure here. I still use it successfully! If you have a propylene glycol allergy, unfortunately, this one won't work for you, though. My dear friend with PG allergy has found great success with the AFM Safe Choice Shampoo and Body Wash. Is it safe for me, and SkinSafe Products give it a 100% Top Allergen Free Badge! Great news for all of us. It has four simple ingredients – Citric Acid, Cocamide Mea, Sodium Laureth Sulfate (SLES), and water. My dear friend says it does a wonderful job on her thick, long hair. I have ordered it to give it a try. Let me know if you've tried it!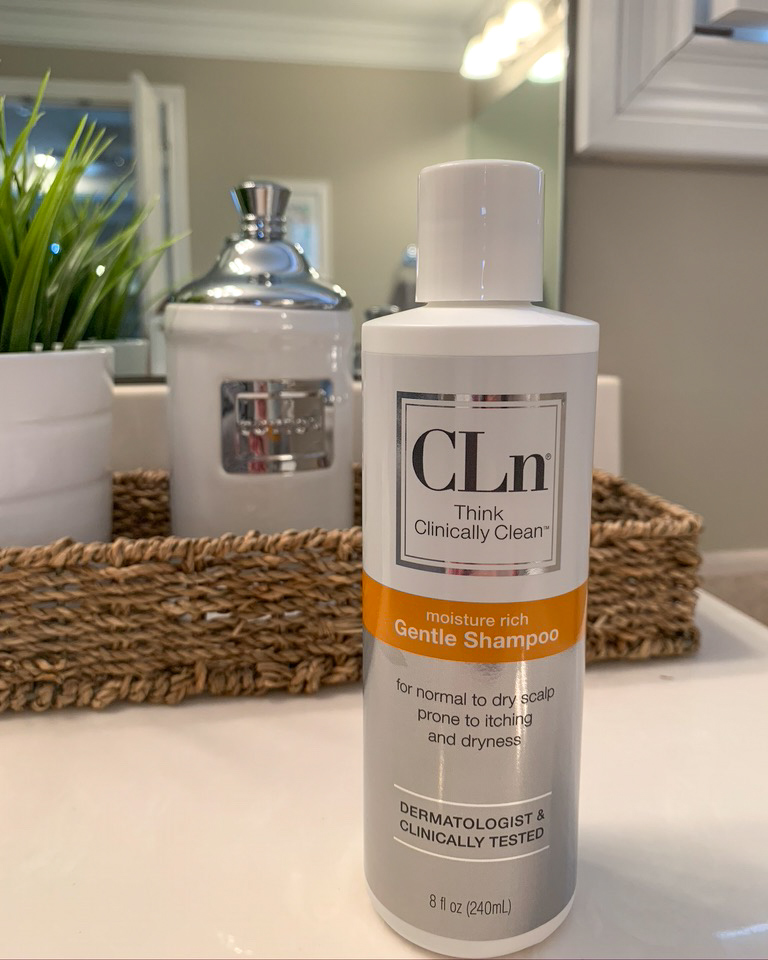 Another shampoo you might want to try is by CLn Think Clinically Clean. It's their Moisture Rich Gentle Shampoo. It can be a more expensive option, but CLn is a great company using hypochlorous acid to clean for scalps prone to itching and flaking caused by dryness, dermatitis, psoriasis, and eczema. On occasion, I have used this and do enjoy it. (I also like their body wash with sodium hypochlorite – hypochlorous acid – especially if you have trouble with folliculitis. I used the salt deodorant stick for a while and found the CLn body wash really helped keep bacteria at bay – almost a necessity if you are using a salt deodorant. The CLn sport wash is also incredible for after-workouts as well).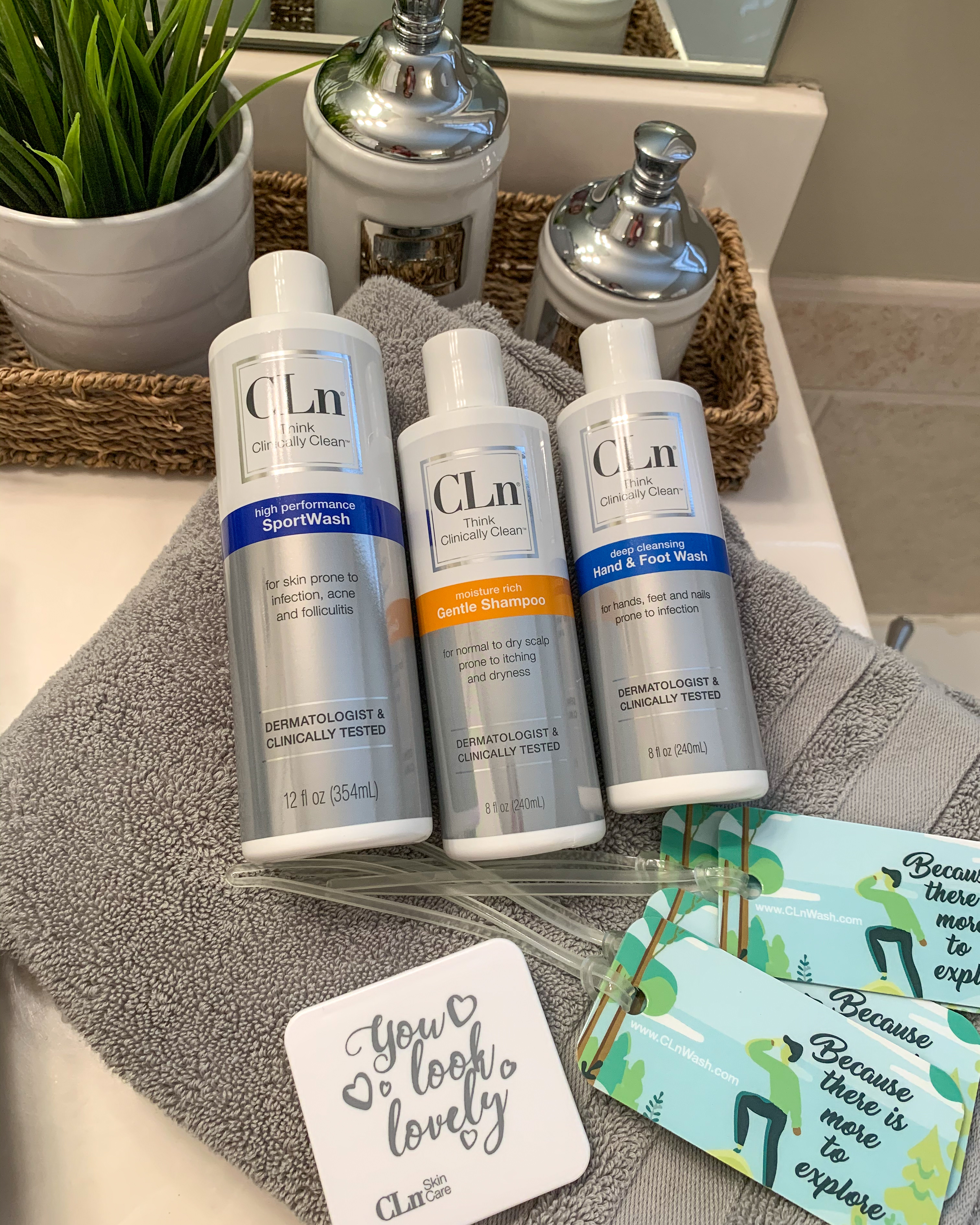 Conditioners, I've tried a lot of them!
I have tried many conditioners in my search for allergy-safe hair products for Allergic Contact Dermatitis. At the beginning of my diagnosis, I had no idea what hair conditioners were safe for Allergic Contact Dermatitis. SkinSafe lists several, and I've given most of them a try.
My daily go-to for Allergy-Safe Hair Products in the conditioner category is the Cleure Replenishing Fragrance-Free Conditioner. The ingredients are simple. For those of you allergic to PG, I also suggest the Paula's Choice Smooth Finish Conditioner; I have it and really enjoy it. It is thick and moisturizing and leaves behind a nice shine. Honorable mentions and safe for most users are FragFre Fragrance-Free Conditioner and the Natureclean Clean Pure Sensitive Conditioner, Fragrance-Free. I have used them both, as has my daughter. They do a nice job as well. Isn't it great to have more than one safe option?
Another reminder to always use the SkinSafe Products website to double-check your allergens. Everything I suggest on The Allergy Life is safe for me and safe for most, but I would never want to suggest something that would hurt you. As a reminder, the allergens I avoid are listed here.
Are there really safe styling products??
I get asked daily if I have found safe styling products that I can use. The answer is YES! After much trial and error and a lot of searching, I have found many safe for me and that are quite effective in my search for safe hair products for Allergic Contact Dermatitis.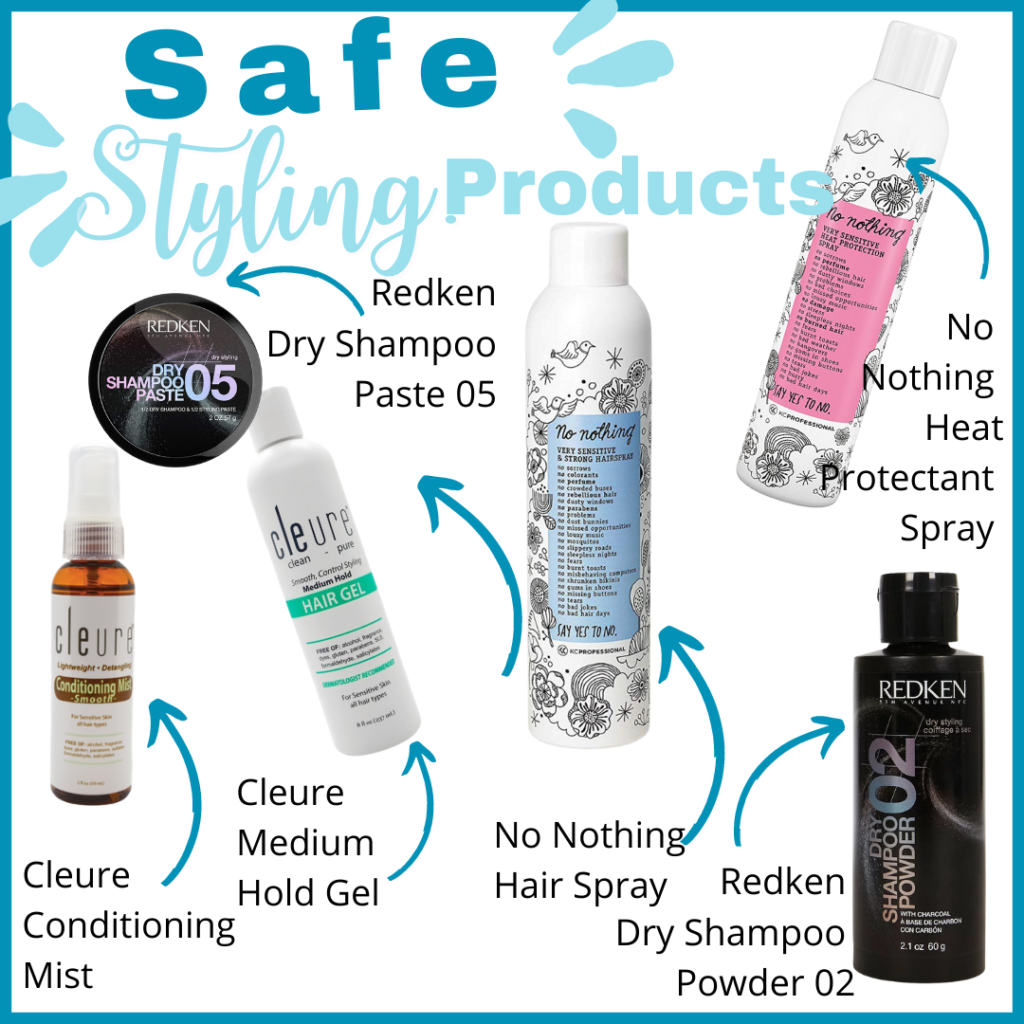 I use a conditioning spray every day for detangling and extra moisture (my hair is very fine but has a lot of natural texture and wave so that it can be frizzy and dry), a lightweight gel, occasionally a heat protectant spray, dry shampoo powder, and styling paste and hairspray.
I wash my hair as infrequently as possible to help minimize damage. Usually, this is about every three days. On the first day of a wash, I curl my hair with a curling iron to flatten out the cuticle and prevent as much frizz as possible. On the second and sometimes third day, I try not to curl my hair to minimize heat damage. My hair retains curl and wave quite well, so this works for me.
Leave-in Conditioner
I love using Cleure's Leave-in Conditioning Mist. It has a detangling quality and gives my hair the extra moisture it needs. These come in tiny bottles. I have no idea why, except maybe a preservative issue. I don't know, but buy two at a time as I do! You'll be happy you did. This is one of my favorite allergy-safe hair products.
Medium Hold Gel
I follow up with the Cleure Medium Hold gel. I have never used gel in my life until the last few years. To me, gel was associated with sticky, crunchy hair. YUCK. But this gel isn't that. It cuts down on my frizz a smidge and makes my hair a bit more manageable. It leaves it very soft, so no worries about crunch here.
Heat Protectant Spray
I, on occasion, use the No-Nothing Heat Protectant Spray. I don't use it every day at all. It provides a nice texture to my hair, which I really like depending on the style I choose. My hair is fine and thin and the texture is so helpful. I've asked my hairstylist several times about heat protectants, and she said as long as you are coating your hair with something after washing, you're in good shape. I think my gel keeps it safe most days, but I do use this spray on occasion, especially on day one of my style.
Hairspray
As far as styling goes, I love the No-Nothing Very Sensitive Strong Hairspray. It is an aerosol – which I love! I have tried several hairsprays that are safe for me, and this one continues to fit the bill and does not bother me at all. A tricky ingredient to look for in hairspray is Alcohol Denat. (SD Alcohol 40-B). Basically, alcohol is denatured with an icky substance to ensure no one drinks it. In the case of someone with allergic contact dermatitis, depending on what the alcohol is denatured with, it could prove problematic for some. I found this out with the Free & Clear Hairspray in addition to the FragFre hairspray. Both I liked a lot. They are pump sprays, but after consistent use, I couldn't get an itch to quit. Alcohol Denat. (SD Alcohol 40-B) was the reason.
Not all Alcohol Denat. is unsafe for me. It's tricky. Only the SD Alcohol 40-B is. I was puzzled by this for a long time and even afraid to try anything made with Alcohol Denat. After trial and error, I realized SkinSafe, once again, really knows their stuff, and it truly is just the Alcohol Denat. (SD Alcohol 40-B) I am allergic to.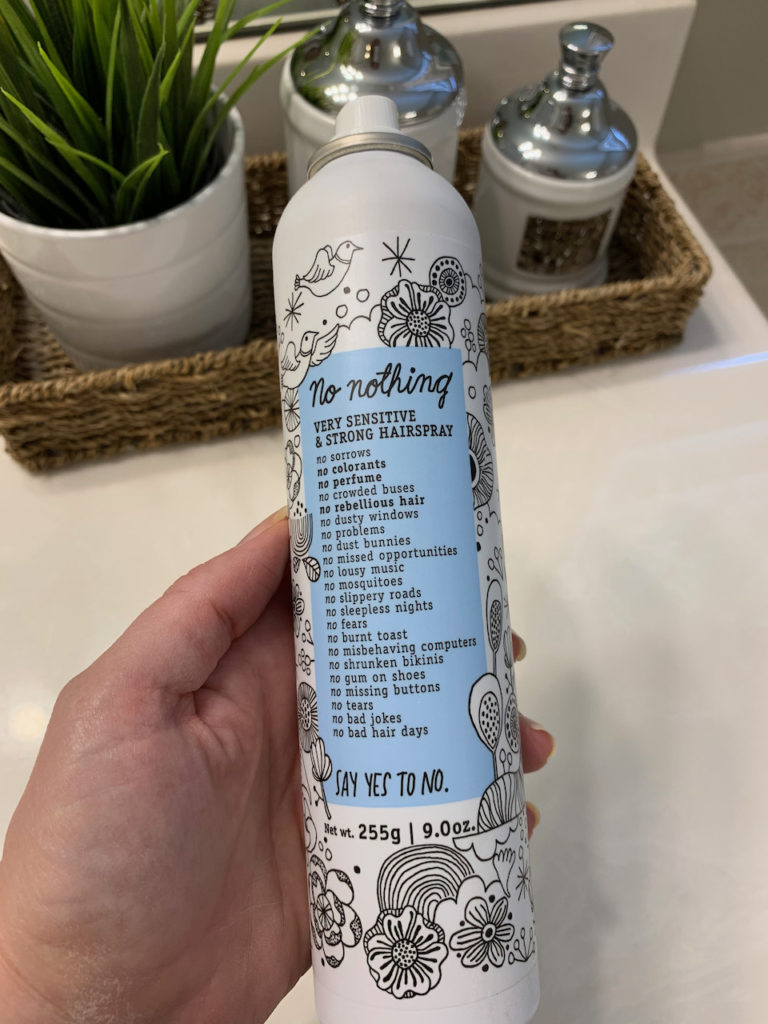 This hairspray is buildable and layers nicely and is one of my must-have allergy-safe hair products. It holds quite well and doesn't clump which I really like. It's definitely something I use regularly and highly recommend.
Styling Paste
I have also fallen in love with the Redken Dry Shampoo Styling Paste 05. I have been searching forever for a simple paste, forming cream, smooth out the flyaways cream. Several months ago, on a random search through the ACDS CAMP (contact allergy management program), I found this little gem and thought it too good to be true. It does have coconut oil, so sadly, if you are sensitive to that, this will not be a good fit for you.
I always recommend you self-patch test at home (a P.E.A.S. pre-emptive avoidance strategy) to check for what might harm you. You can read more about P.E.A.S. here. This cream is a combo of dry shampoo and styling paste. So while it is a forming cream, it's not a tacky hard-paste you might be thinking of. It's smooth and buildable and won't cake up or make your hair tacky. It's a real dream come true for most of us.
Dry Shampoo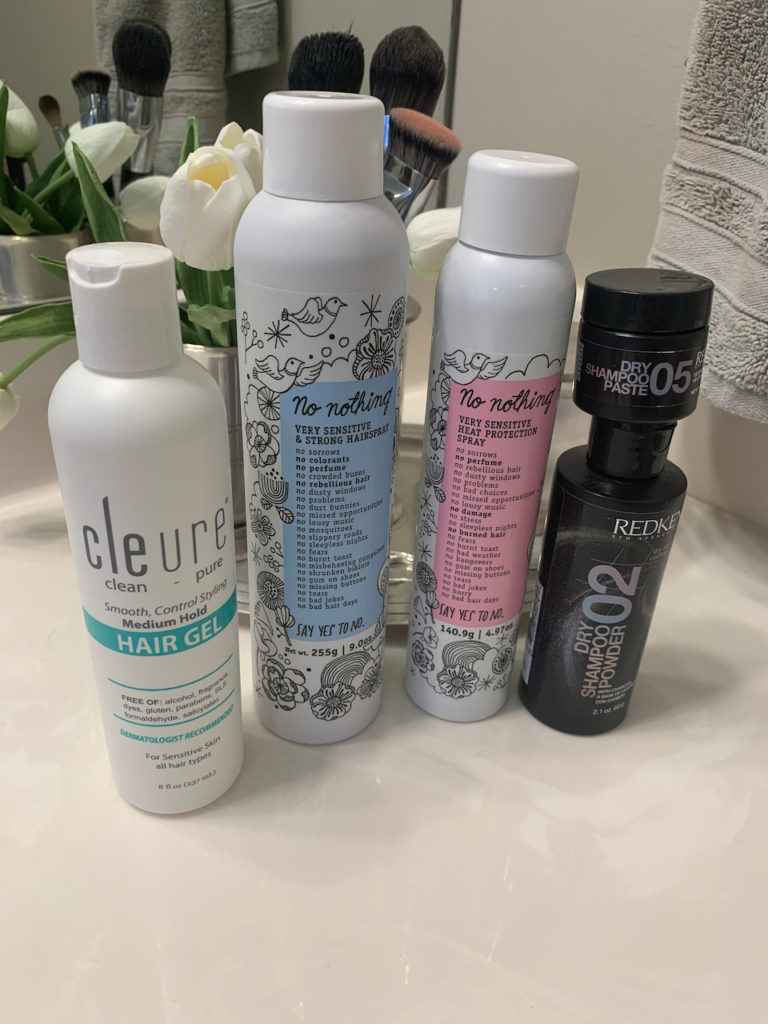 Trying to find a Dry Shampoo that is safe for me has been the challenge of my life! No, seriously. I thought I had found one, and then after two months of itching at the base of my neck, I finally resorted to myself that it was the dry shampoo. It was a simple ingredient incredibly safe for most, but it caught my Balsam of Peru allergy off guard and sent my T-cells into attack mode. This allergy, at times, is a real irritation!
The ingredient, PPG-3 Benzyl Ether Myristate, in the original Dry Shampoo is linked to my Benzoic Acid allergy and was just enough to cause a major reaction. PPG-3 Benzyl Ether Myristate is added to increase the shine of hair, among other things. Oh, if it only didn't have that one tiny ingredient!! Guess who helped me figure out the connection?? SkinSafe Products. So thankful for them! Without them, I may never have found any allergy-safe hair products.
The two lists, SkinSafe and ACDS CAMP
I get the question a lot about why I prefer SkinSafe over ACDS (American Contact Dermatitis Society) CAMP (contact allergen management program) lists. I use both and am incredibly thankful to all the allergic contact dermatitis dermatologists that devote time and energy to them. My CAMP list is generally larger, and I do use it to search out products. But I love SkinSafe because I can track down ingredients there.
SkinSafe
The SkinSafe learning center makes finding out why an ingredient isn't safe for me, what it cross-reacts with, and what ingredients are safe for my product a breeze. I can't see any of that with my CAMP list. I found out a long time ago that to stay reaction-free, I needed to know what ingredients weren't safe for me. While I can't always remember each of them, SkinSafe helps teach me, and over time, I begin to notice them in ingredient lists.
Another reason I prefer SkinSafe is that literally, anyone can use it. You can get a safe-for-you code by emailing mypac@skinsafeproducts.com if you've had a patch test. If you haven't, you can search with your own parameters like 100% top allergen-free or preservative-free etc. CAMP requires you to have your physician enter your code and give it to you. If they don't, you cannot access it. I spent years without a list at all. My dermatologist didn't access CAMP, and therefore, I couldn't either. That has changed now for me, and I can access both lists. Hope that helps you understand. I get a lot of questions about this!
Anti-Aging for Sensitive Skin
Finding safe for you anti-aging skin care is a real challenge. Many serums and creams have fragrance and botanical ingredients, making them a bad choice for allergic contact dermatitis sufferers. I have begun regularly using Tretinoin from my dermatologist. It is a simple, safe, and extremely effective formula to not only build collagen and repair wrinkles but also as a safe exfoliant. I have been using it safely for a while now.
Safe Dry Shampoo to the Rescue
I am happy to report that I am two months in with my new Redken Dry Shampoo 02 Powder!! This Dry Shampoo powder, although not aerosol, has what it takes to keep my hair happy! I especially love using it after I work out. Its primary ingredient, Charcoal, is known for its purifying properties, and it really helps absorb natural oil and odor as well. It's a win-win! I do hope you'll try it! The simple ingredients are Zea Mays Starch/Corn Starch, Tapioca Starch, Sodium Bicarbonate, and Charcoal Powder. That's it! Talk about clean!! Love it!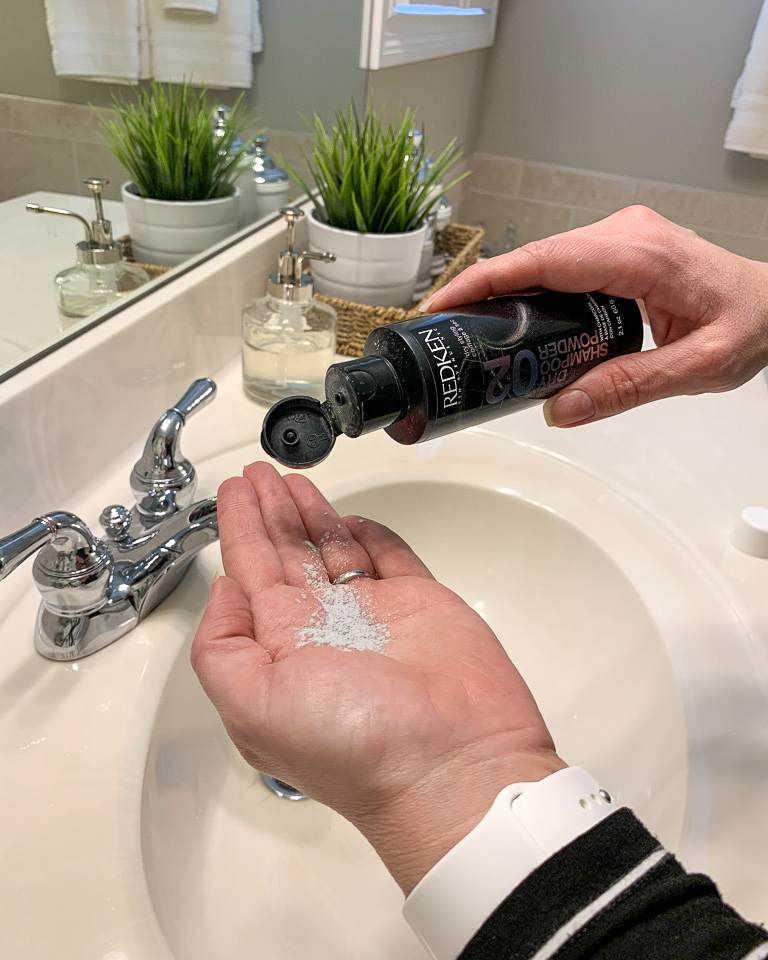 Although the instructions say to shake the bottle and then shake/spray it into the hair, I have yet to perfect that. Instead, I pour the powder into my hands, rub them together and then disperse it into my hair. It has worked perfectly!
Do you Dye your hair?
Now for the last most asked question at The Allergy Life… Do you dye your hair safely? First and foremost, I do not have a PPD, paraphenylenediamine, allergy. This is the primary component of permanent hair dye. If you have a PPD allergy, it may not be possible for you to dye your hair.
I highlight my hair every other month. I do know there are several ingredients in the hair dye products my stylist uses. My environment is as minimal as possible to avoid my allergens, which means generally, my tolerance level is on the higher side. Allergic Contact Dermatitis is a tolerance allergy. If your pot is full, meaning you have a lot of exposure to your allergens, you will react with every tiny contact. If you're lucky enough to track down your allergens or remain in an environment where you do not encounter them, you may be successful at times in exposure without a reaction.
Not all of us are this fortunate. Some allergens are just everywhere. Nickel, for instance, is in foods and in so many things we touch. It is hard for someone with a nickel allergy to manage at times without a low-nickel diet.
Highlights and Lowlights
I do take a risk with highlighting my hair. There may come a time when I can no longer highlight and lowlight my hair without reacting. But for right now, I do ok. This is a very personal choice. My goal at The Allergy Life is NEVER to encourage you to expose yourself to your allergens and cause a reaction. My hope here is to come alongside you to educate you on your allergen to give you a fuller and healthier life. I want to encourage you to live a full and healthy life.
I highly recommend you bring all of your own hair care products with you to your salon appointments. Ask your stylist if you can be the first appointment in the morning before the salon fills with strong scents and allergens. Maybe even an appointment before the salon opens up. Take your shampoo and conditioner and anything else you like to use. This will go a long way in keeping you reaction-free after your salon visit.
I hope these simple tips have helped. If you still have questions, please reach out. As always, I'm in your corner!