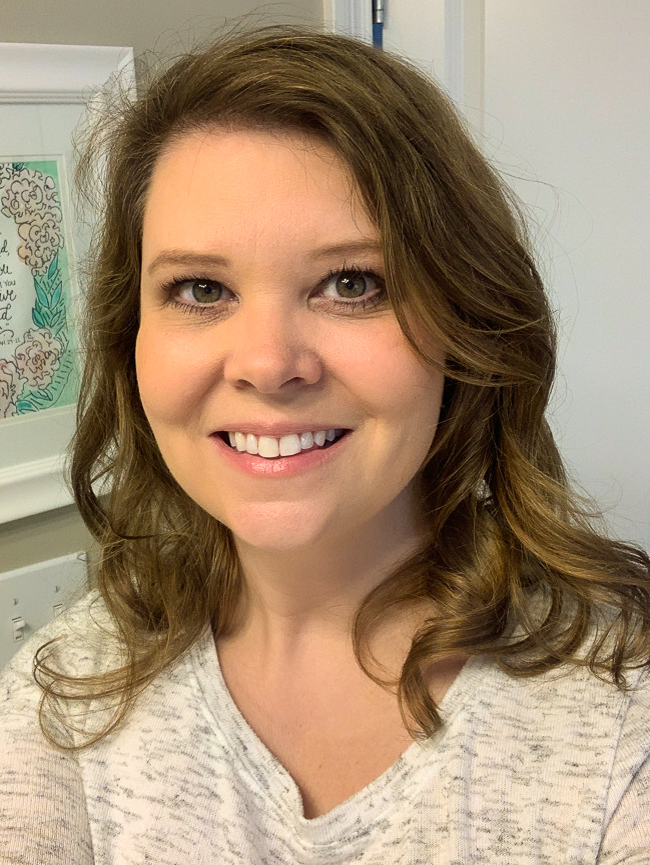 In-office teeth whitening system
Early last year, I became frustrated at the lack of whitening in my safe toothpaste. I decided to try the teeth whitening service at my dentist's office. It was a pretty awful experience I have to admit sadly. If you've had the zoom system done, you know they paint on a gel and then you sit under a light in multiple steps, each step gets you closer to a whiter result. The problem is the gel used in the procedure has ACD allergens in it. As it leaked onto my gums, I grew more uncomfortable. The result for me – irritated gums and a rash extending up my check followed the next day.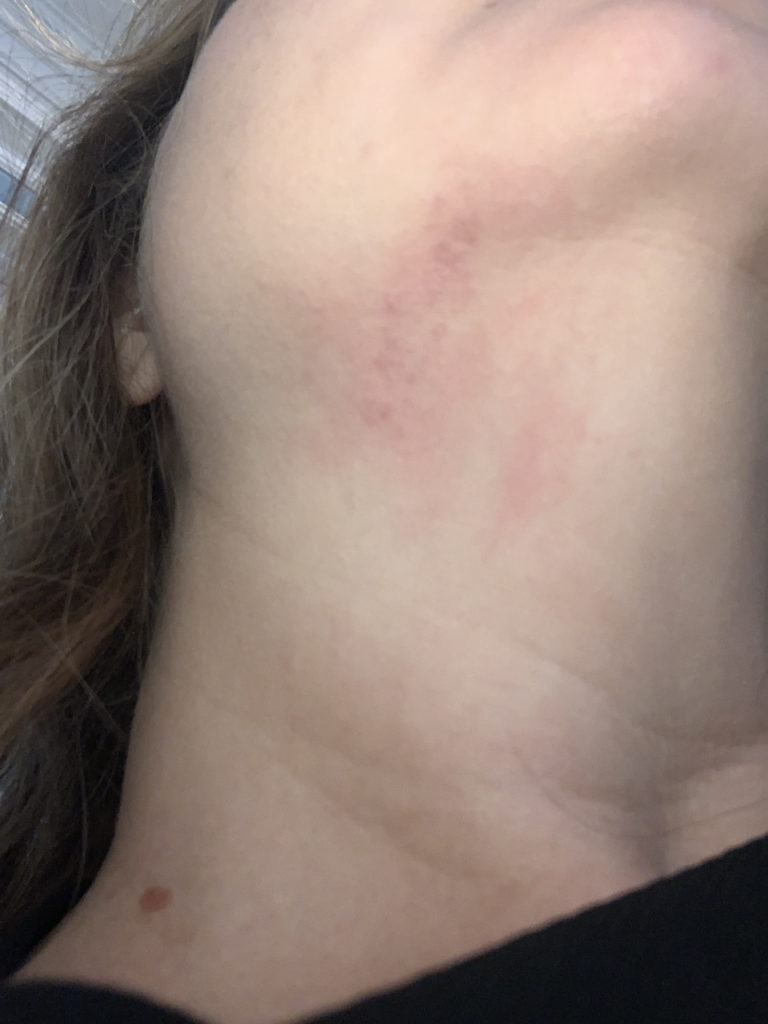 Are ACD Reactions worth it??
Sometimes, I decide for myself that a brief reaction to my allergens is worth it to me. Remember, our allergic contact dermatitis allergies do not cause anaphylactic shock – that is a histamine-related allergy. ACD is a Type IV delayed immune response allergy regulated by T-cells, not histamine. Repeat, daily exposure to an allergen is definitely a recipe for disaster (and subsequently how our allergies start in the first place). Still, a brief encounter can at times be worth it, in my opinion.
This is NOT permission to use your favorite cosmetic you know is filled with your allergens every day. My patch test dermatologist agrees with this theory, permitting me to wear a family heirloom on a special occasion that I know contains gold – one of my allergies. I also use this theory when I have my hair highlighted at the salon every few months (I get so many questions about this!).
Crest to the rescue!
I stumbled across this teeth whitening kit in my SkinSafe app and was really excited to try it out. Ordering the system from Amazon was really easy and I began using it every day as the directions state. It's easy to be skeptical that these strips could be as effective as the zoom system in the office, but after 3 days, I could really tell a difference though. The teeth whitening kit had really been effective. The light included in the system is used at the end for five minutes. I think it makes a huge difference. The struggle I had after a few days was that my teeth (like the rest of me! LOL!) are sensitive, to begin with. I had to stop for a few days to give them a break. I would recommend you going slow if your teeth are sensitive like mine and of course check the ingredients in the SkinSafe app for your specific mix of ACD allergens. These whitestrips are 100% Top Allergen Free and contain just 7 ingredients: PVP, PEG-8, Water, Hydrogen Peroxide, Acrylates Copolymer, Sodium Hydroxide, Sodium Saccharin.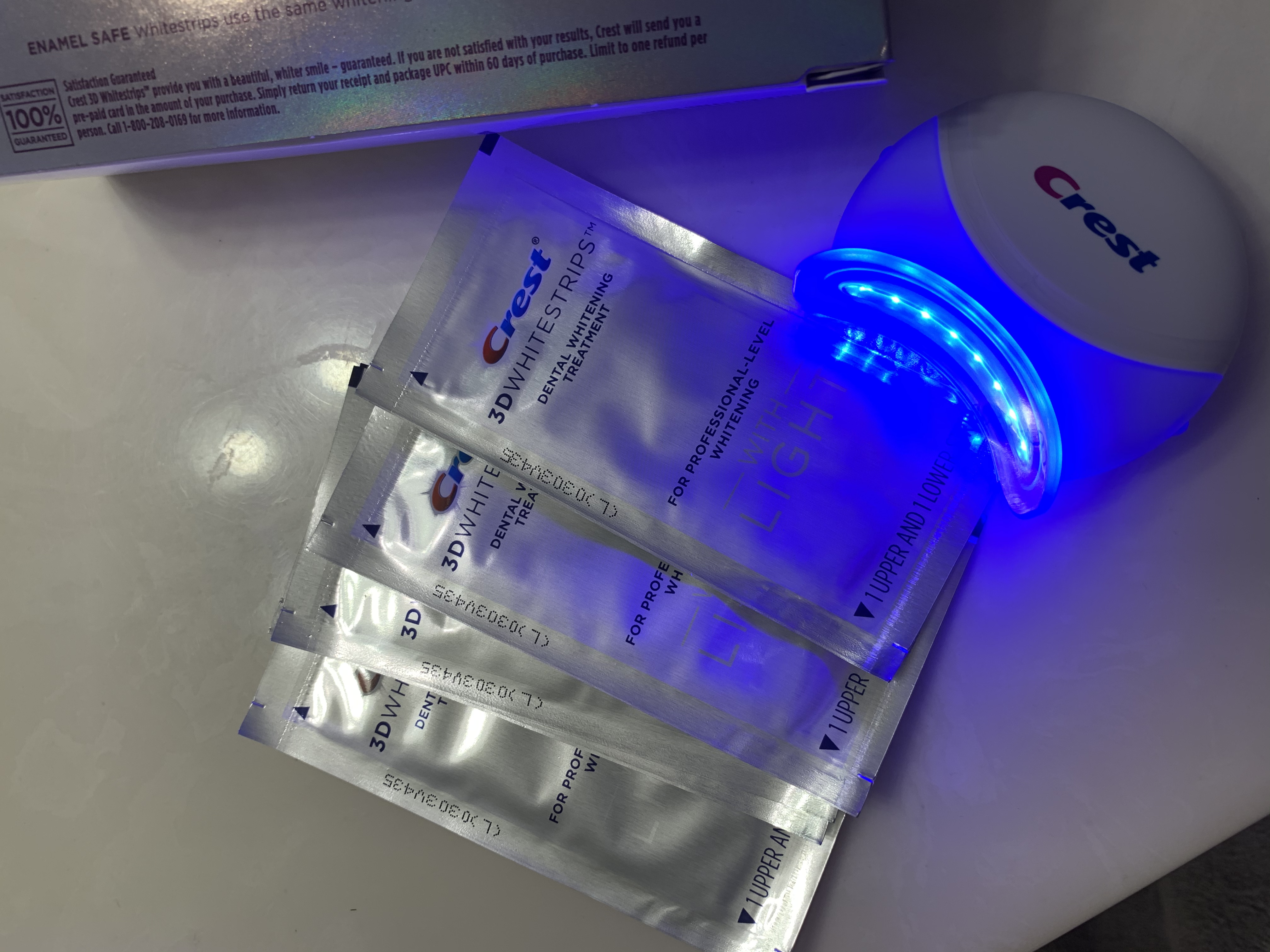 Safe and Effective
The best news, this is effective and, for most of us in the ACD world, – safe. Music to my ears! I found a huge discount for these teeth whitening strips when placed on Amazon Subscribe & Save. If you haven't used this system before – you are really missing out. I have all sorts of family favorites on Subscribe & Save – including the Planet Dish Soap and Nellie's Oxygen Brightener I use. You can find many of the items I include on Subscribe & Safe in my Low Allergen and Favorite Product List. When you have 5 items come per month, you unlock a 15% discount on all products in the order. For these white strips – it's a discount of almost $9! That's a huge savings. You can place the reorder at any month interval, even up to every 6 months.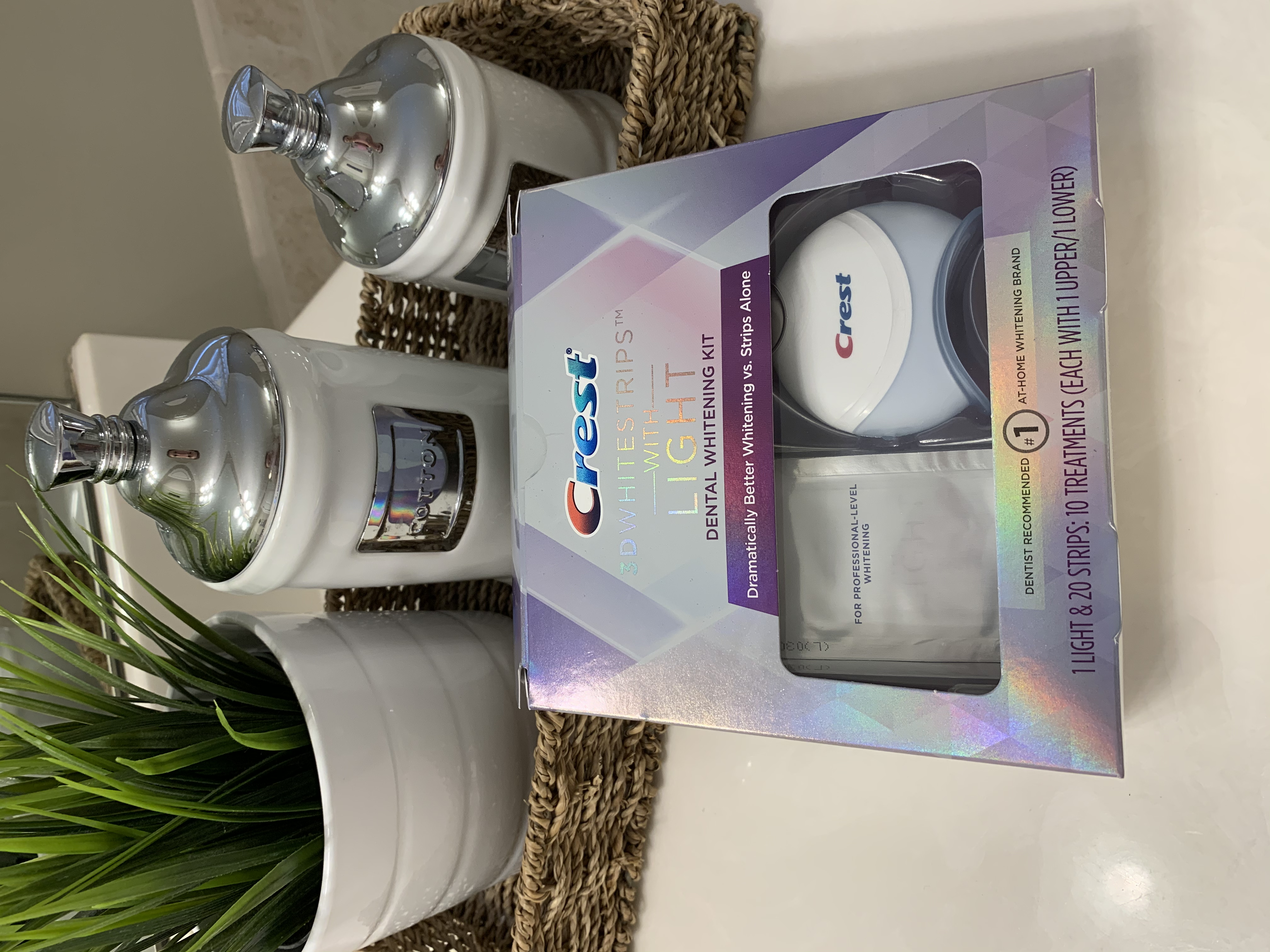 Let me know if you've tried teeth whitening with any success or with a mess like I had with the in-office procedure. I will also love to hear if you can use these Crest 3D White Whitestrips with the light.