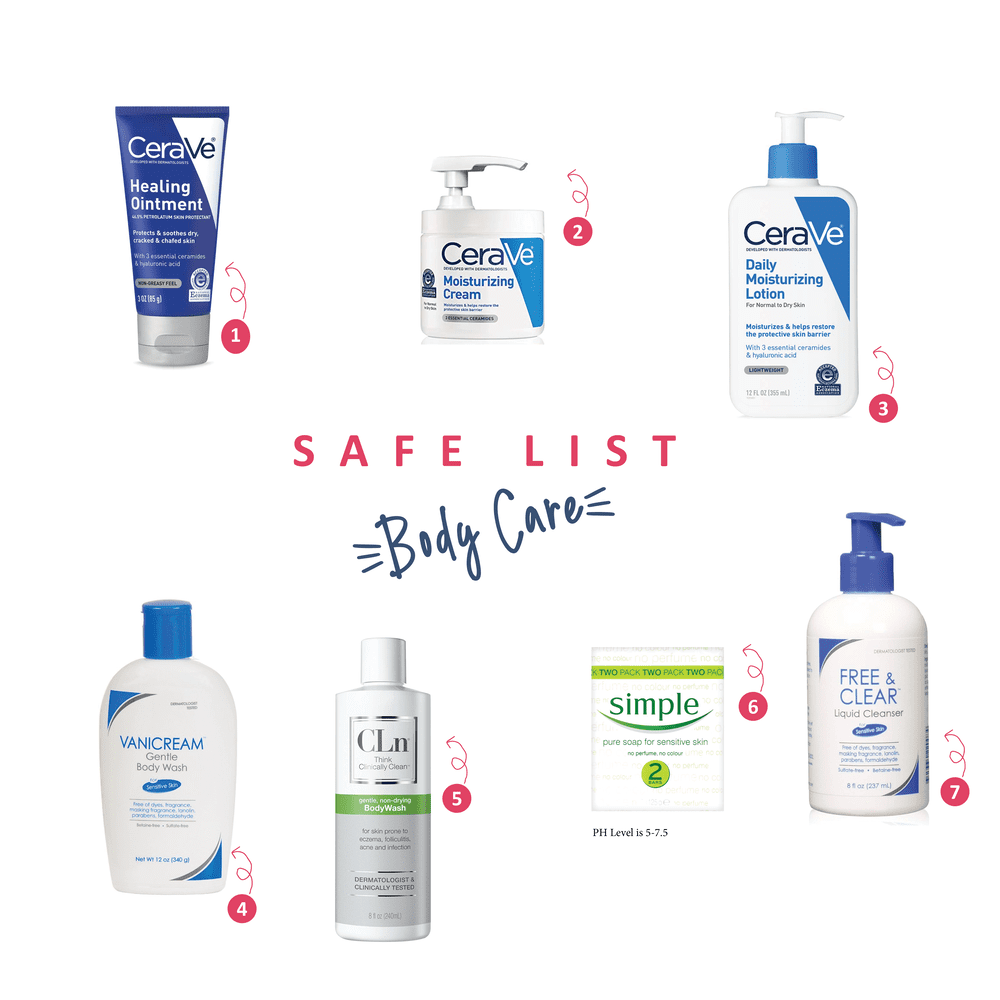 Allergy-Free Body Care
With Sensitive Skin, Eczema, Atopic Dermatitis, and Allergic Contact Dermatitis, finding allergy-free body care products safe to use can be a real challenge – if not a near impossibility!! I have put together a go-to list of allergy-free products for this community of allergic contact dermatitis sufferers. You can quickly access this list when you have just been diagnosed or to keep your environment clear of sensitizing ingredients like fragrance.
1. CeraVe Healing Ointment
2. CeraVe Moisturizing Cream
3. CeraVe Daily Moisturizing Lotion
4. Vanicream Gentle Body Wash
5. CLn Gentle Body Wash
6. Simple Pure Soap
7. Free & Clear Liquid Cleanser
Included on the list are items I either currently use or have used safely in the past year. All have a Top Allergen Free rating on SkinSafe and are on the Safe for Me (as in my Safe for Dannyelle) list as well. As a reminder, my confirmed list of allergens and those classifications of ingredients you will NEVER find in products I use include:
My allergens:
Formaldehyde and its releasers
Balsam of Peru
Fragrance Mix I
Cinnamic Aldehyde (Cinnamates)
Tincture of Benzoin (Benzoates)
Sodium Metabisulfite
Propolis / Bee Glue
Gold
Allergen-Free Body Care
This list is of Allergy-Free Body Care items. I've linked all of these items to Amazon to be convenient for you, but you can find some of these products at your local Target, Walgreens or CVS. There are, on occasion, different variations of these products. To be safe, ONLY use these exact products. It's also important to note that manufacturers can and do, change their formulas without notifying the public. Always double-check ingredients.
On occasion, they also change a formulation without changing the packaging to alert you of the change. Always, Always, Always check the ingredient list against your safe list. SkinSafe Products does a fantastic job aiding allergy-sufferers in finding Allergy-free body care products, but again a database can't possibly know when a product changes its formulations. Check and double-check. That's the way!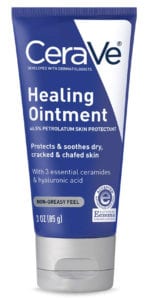 Ingredients: Petrolatum, Paraffinum Liquidum / Mineral Oil / Huile Minerale, Paraffin, Ozokerite, Dimethicone, Aqua / Water / Eau, Ceramide Np, Ceramide Ap, Ceramide Eop, Carbomer, Sodium Lauroyl Lactylate, Proline, Cholesterol, Phenoxyethanol, Tocopheryl Acetate, Tocopherol, Hydrolyzed Hyaluronic Acid, Panthenol, Pantolactone, Phytosphingosine, Xanthan Gum, Ethylhexylglycerin
This ointment is a superstar. With Petrolatum, Hyaluronic Acid, and Ceramides, it has wonderful hydration and humectant properties. Its fragrance-free and lanolin-free qualities make it perfect for healing and protecting dry, chapped lips or even chapped delicate cheeks that have been in the cold too long.
I use it on my lips after a lip pencil to create a safe-for-me lipgloss as I have a propolis allergy – many of my used-to-be-favorite lip glosses have propolis/Cera alba wax in them. I have done some extensive reading about the occlusive quality of this product. It is very effective in keeping wounds moist, and I have read that Physicians believe a moist environment allows for perfect healing without antibiotics.
Many are developing contact allergies to the bacitracin/antibiotic ointment due to over-exposure. This CeraVe Healing Ointment applied to a wound keeps it moist for healing, but it is allergen-free without an antibiotic. My kids love this product as well for their lips this winter. Aquaphor's similar product is not fragrance-free, and I cannot recommend it, so be cautious when comparing the two.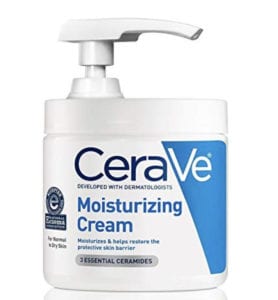 Ingredients: Aqua / Water / Eau, Glycerin, Cetearyl Alcohol, Caprylic/Capric Triglyceride, Cetyl Alcohol, Ceteareth-20, Petrolatum, Potassium Phosphate, Ceramide Np, Ceramide Ap, Ceramide Eop, Carbomer, Dimethicone, Behentrimonium Methosulfate, Sodium Lauroyl Lactylate, Sodium Hyaluronate, Cholesterol, Phenoxyethanol, Disodium Edta, Dipotassium Phosphate, Tocopherol, Phytosphingosine, Xanthan Gum, Ethylhexylglycerin
This cream has been a welcome addition to our home. It sits on the side of the tub and is at the ready when we get out of the shower. Hydrating ingredients such as hyaluronic acid and ceramides are a cream that replenishes our essential skin barrier. When eczema and sensitive skin lead to itching, a breakdown in the skin can lead to trouble. This cream is thick and feels fantastic. A definite must!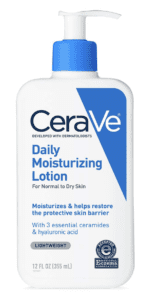 Ingredients are: Aqua / Water / Eau, Glycerin, Caprylic/Capric Triglyceride, Cetearyl Alcohol, Cetyl Alcohol, Potassium Phosphate, Ceramide Np, Ceramide Ap, Ceramide Eop, Carbomer, Dimethicone, Ceteareth-20, Behentrimonium Methosulfate, Methylparaben, Sodium Lauroyl Lactylate, Cholesterol, Disodium Edta, Dipotassium Phosphate, Propylparaben, Hydrolyzed Hyaluronic Acid, Phytosphingosine, Xanthan Gum, Polysorbate 20, Polyglyceryl-3 Diisostearate
This lightweight moisturizer is my choice for days I'm headed to the gym or summer months. It's a wonderful option for allergy-free body care! It's oil-free but still has three essential ceramics and hyaluronic acid to help restore my skin's natural barrier. As a daily-moisturizer, it can provide 24-hour hydration, which I really appreciate. If you haven't read Dr. Sandy Skotnicki's book Beyond Soap yet, you really should. It will help you understand the importance of daily moisture to keep your skin's barrier intact.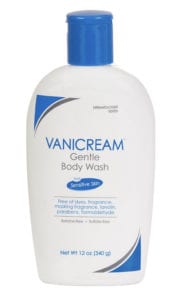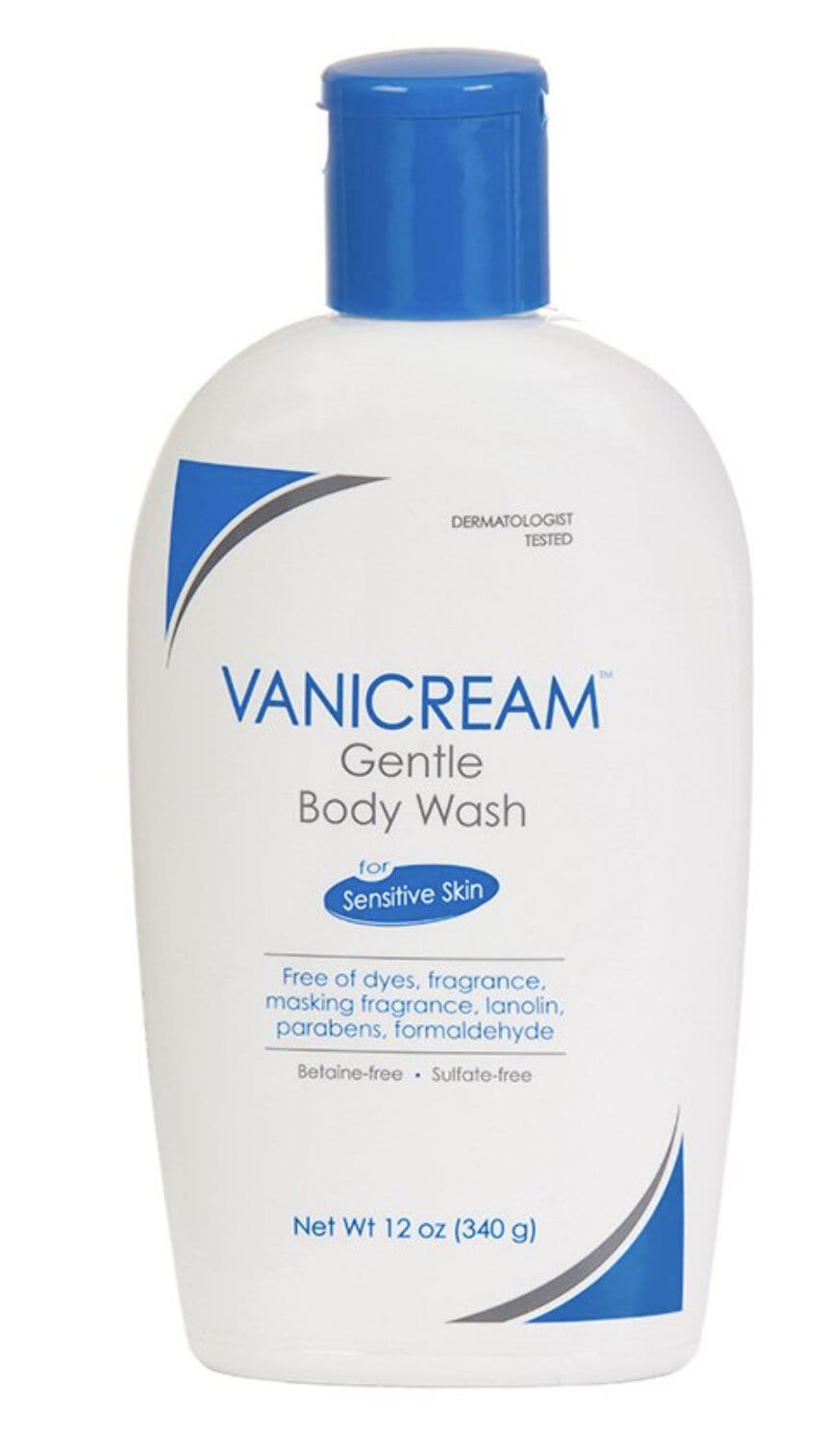 Ingredients are: purified water, glycerin, coco-glucoside, propanediol, sodium cocoyl glycinate, acrylates copolymer, panthenol, caprylyl glycol, disodium EDTA, sodium chloride, 1,2-hexanediol, mica, titanium dioxide, sodium hydroxide, citric acid
I've been on the hunt for a body wash that is fragrance-free and actually SUDS like a real body wash. This is it! My whole family has used this for the last few months, and we're pretty happy with it! It's approved by the National Eczema Association too.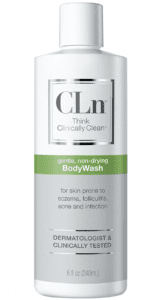 Ingredients are: Water (Aqua), Sodium Laureth Sulfate, Cocamide MEA, Cocamidopropyl Betaine, Sodium Hypochlorite, Disodium EDTA
The CLn Gentle Body Wash has an almost cult following. It is a pricier option for a body wash, but it sets itself apart from the other safe-for-me cleansers. It promises to help with acne, irritation, and infection. I read many reviews praising this wash, including some using it for workplace environments where infection can be problematic – namely medical environments. As someone who has significant trouble visiting hospitals, the handwash always breaks me out badly; I ordered this in their 3 oz. Size to carry with me in my purse. This wash can also be used to clear up acne and folliculitis – both troublesome to clear when you already have eczema. I have not used this as a body wash and will update when my bottle arrives! The National Eczema Association also approves this wash.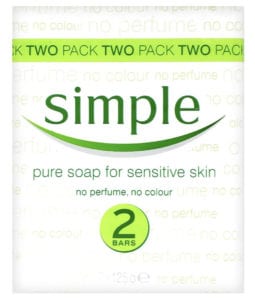 Ingredients are: sodium tallowate, sodium cocoate, aqua, sodium palm kernelate, sodium chloride, glycerin, tetrasodium EDTA, etidronic acid
I began using this bar in the shower two weeks ago, and my skin looks and feels better than EVER! My bumpy upper arms are smooth as silk. After reading Dr. Skotnicki's book Beyond Soap, I got concerned about the PH of this soap. As she discussed in her book, if PH is too high/alkaline, it can tear a hole in your protective skin barrier. ACK! I emailed Simple, and they assured me the PH of this soap is 5.5, perfectly where it should be, according to Dr. Skotnicki. She says that natural soap is too high in its alkalinity – Dr. Bronner's Baby Unscented Soap is almost 10 – extremely alkaline. Dr. Skotniki says alkalinity can be incredibly damaging to our skin barrier.
If you enjoy Dr. Bronner's, I think you will like Simple. It feels similar but is softer – not as tacky. The lather is RICH and leaves me feeling smooth and soft. I used Dr. Bronner's for about six months earlier this year, and my arms were extremely bumpy – almost like my Keratosis Pilaris had returned – I have it from time to time. Since then, I have stopped using Dr. Bronner's Unscented and went to the Vanicream Gentle Body Wash. The bumps cleared within a few weeks. I was nervous about using the Simple Bar in fear of the bumps returning, but so far, so good!
Possibly Dr. Skotnicki is correct, and the Bronner's was too alkaline for me. I also put my little eczema kiddo, Luke, on this bar, and he told me his skin is feeling softer and not dry. That's a win for me! I sent my mom and sis-in-law some Simple earlier this week, so I'll report back with their reviews too.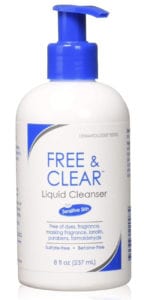 Ingredients are: purified water, glycerin, sodium lauroamphoacetate, sodium lauroyl sarcosinate, PEG-120 methyl glucose dioleate, sodium chloride, citric acid, sodium laurate, bis-PEG-18 methyl ether dimethyl silane, potassium sorbate, tetrasodium EDTA
This is my sink soap! It's what I use at my kitchen sink and in the bathroom. A great everyday cleanser that is gentle yet effective on my hands, even when cooking. In fact, I carry a small bottle of this with me in my purse (although I've ordered in the CLn one to use – will update!) as the soap in public bathrooms most certainly has a fragrance that would cause me a breakout. I haven't used this on my body or face, but I read many reviews of folks who do use it for sensitive skin body care! Feel free to read some of the reviews at the Pharmaceutical Specialties, INC website – people literally sing the praises of this soap and what it has done for them!
————-
I'll continue to add to this list if I find more Allergy Free Body Care products that are allergen-free and equally as amazing as these products I've listed! When you begin to use products free of allergens, your nervous system literally breathes a sigh of relief. When I had my first shower sans-allergens, I had no idea it could feel that good. Good Luck to everyone living reaction-free! This list is also great for sensitive skin body care ideas.