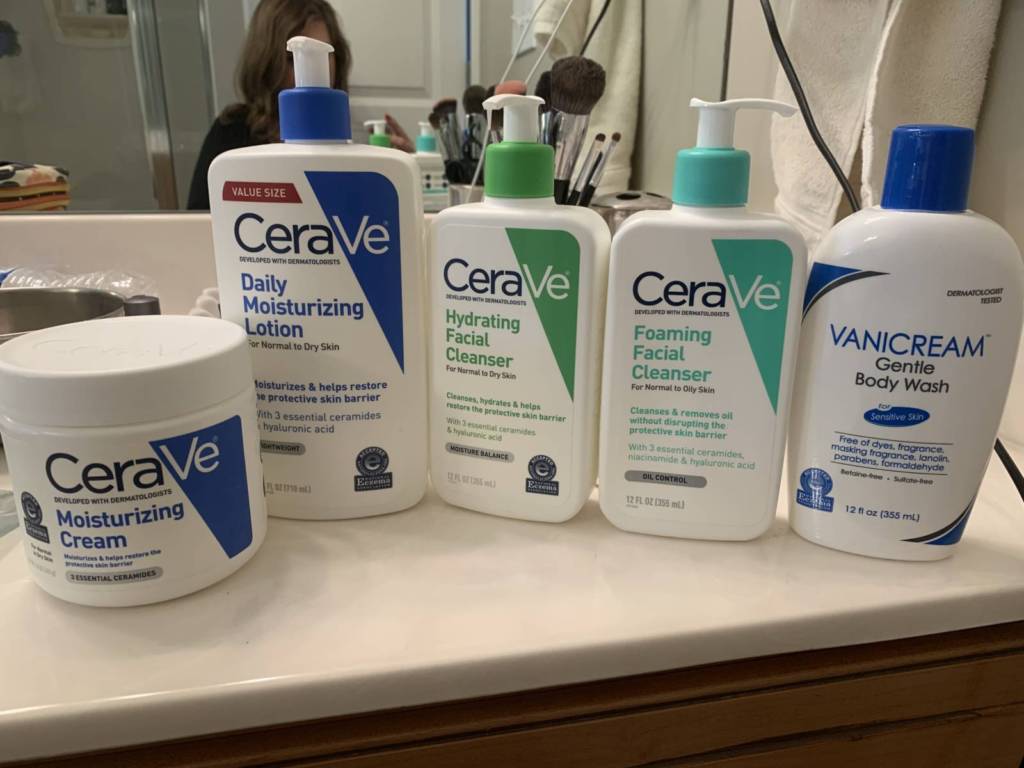 Double Cleanse. Simple Moisturizer.
For my daily cleanse routine, it's a double cleanse and simple moisturizer. This is all it takes for a reaction free, healthy glow. In addition to having a great cleanser routine, I have tried many "safe for me" anti-aging serums in the last few years and with many sensitivities, I can't find any that leave me reaction free. If I find one, I'll update you! For now, here's my best daily face cleansing routine. Try it – you might love it!
I'm in my 40's and have used high-end, anti-aging skincare for YEARS, you might be shocked to know that this group of products from CeraVe are all I am currently using and make my skin ☀️GLOW☀️ like never before! I encourage you to look these items up in the SkinSafe database. The majority of them are 100% allergen-free, and all are marked Safe for Me! If you don't have an allergy code from SkinSafe yet and have been patch tested, email your allergens to mypac@skinsafeproducts.com for a custom code. The PAC helps filter your allergens out and lets you know which products are safe for you vs. not safe for you. On their website, it will highlight in RED ingredients that are unsafe to help you learn to read ingredient lists – super helpful skill.
The First Cleanse
1. CeraVe Hydrating Facial Cleanser 🧼 I use this as a lotion – I rub a quarter size amount around my dry face and eyelids and then use a warm moist cloth (my fav is the Jane Iredale Magic Mitt) to gently remove it. This cleanser feels like a creamy lotion and magically removes all mascara and eyeliner gently! 👏🏻
If you're not used to removing your makeup like this, it can take some getting used to, but promise PROMISE you will love it and be amazed at how easy it is to remove your makeup now.
Some may enjoy using the CeraVe Foaming Cleanser, but due to my sensitivity to Niacinamide, I cannot use it. My husband and teens use it though and really like it. It might be a great option to keep in your gym bag if you shower after exercising as it's more of a one-stop-shop instead of a double cleanse routine!
Honorable Mentions
There are two other really awesome lotion-balm-type cleansers I have used and really love. The first is Clinique's Take The Day Off makeup remover balm. I love love LOVE this. It literally melts the makeup right off, including waterproof mascara. It reminds me of cold cream, but oh so much better. Give it a shot and let me know what you think!
The second is Avene Tolerance Extreme Cleansing Lotion. I love this as well. It is definitely a lotion, but on a dry face it also cleanses quite well and for skin that is irritated, it would be extremely gentle. I used this for almost six months and really enjoyed it.
The Double Cleanse
2. Vanicream Body Wash 🧼 I use a nickel-sized amount of this on my Jane Iredale Magic Mitt to wash away any remaining residue from my makeup and the hydrating cleanser (or Take the Day off balm / Avene Cleansing Lotion). I can't believe how effective this is and my face does not feel dry, just clean.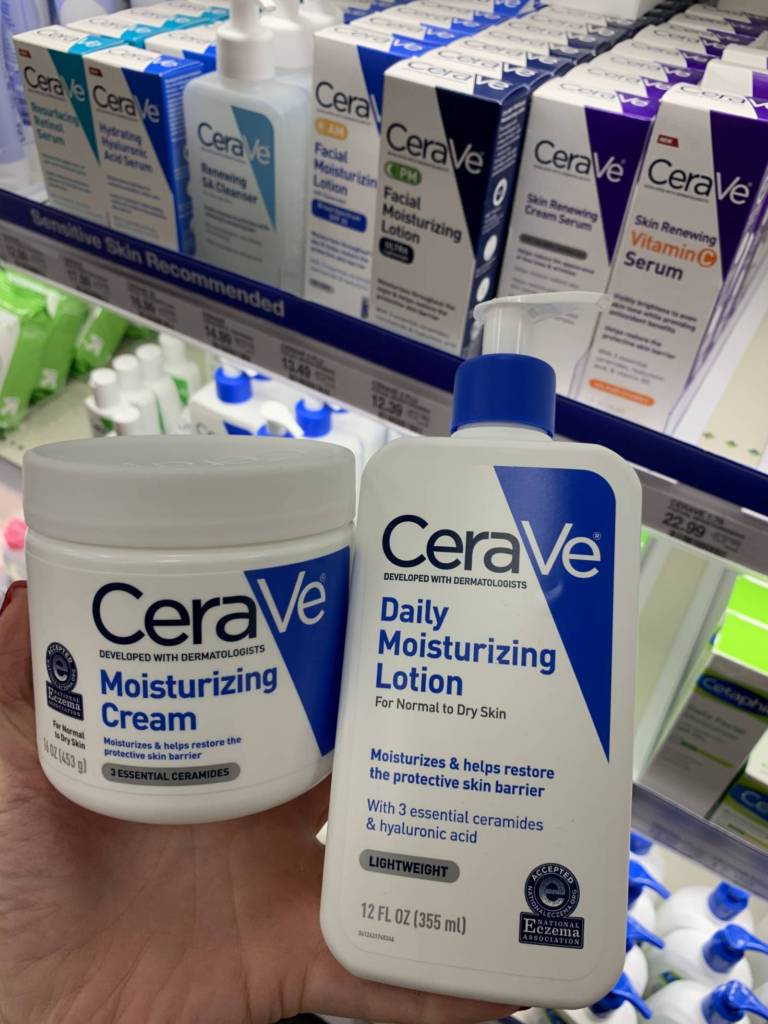 Moisturizer Options
3. CeraVe Daily Moisturizer 🧴 In the summer months, I follow my daily cleanser routine with this moisturizer after washing my face. This is the perfect daily moisturizer and can be used for the entire body!
4. CeraVe Moisturizing Cream 🧴 Think of this as the most luxurious night cream you've ever bought. With hyaluronic acid and ceramides, it just about is!! I use it at night after my daily cleanse routine and daily morning moisture in the dry winter months. You can also use this as an eye cream with its excellent hydration qualities. I have other great moisturizers I suggest on my safe list and my favorite product list!
That's it! This is my favorite skincare routine I've had. Let me know if you try it and how effective it is for you!