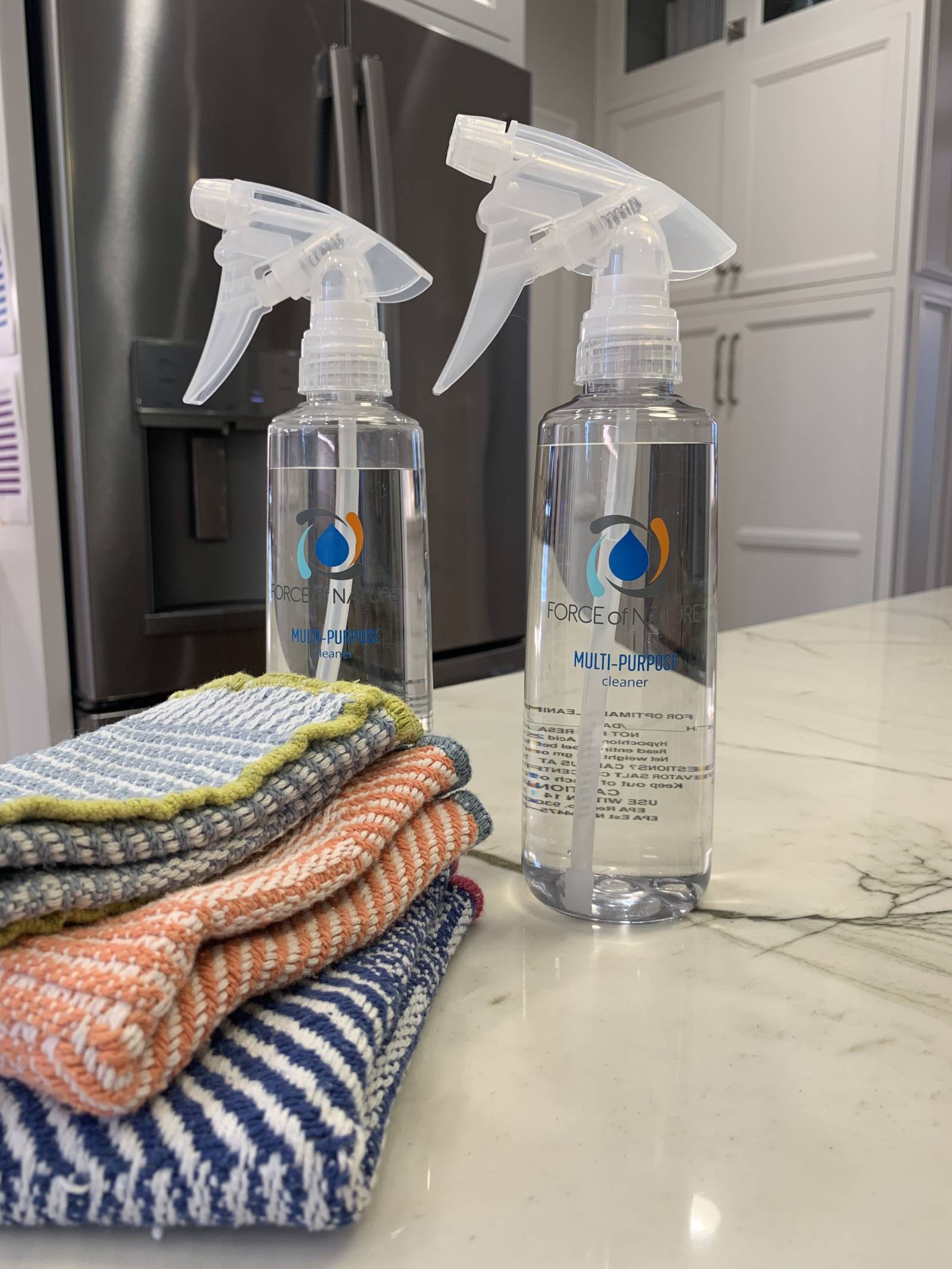 It's Game Plan time. I'm guessing most of you already have a fairly good idea of what your game plan looks like by now, but for those still struggling, I thought I would share a few of my ideas about how I'm handling my allergic contact dermatitis with all the washing, cleaning and Covid-19 sanitizing that's being done right now.
The good news: most of us are required to stay at home so any exposure to our allergens is actually limited and of our own doing. The exception to this is those of us in essential jobs – healthcare workers and those stocking our shelves at the grocery among others. A huge heartfelt thank you to those frontline workers. If you're in these roles, the amount of exposure to allergens could be real trouble for you in the current landscape. I hope you find some of my tips helpful to you during this time.
On a side note, the canvas we're living in currently is changing daily. While most of these recommendations are purely suggestions, they mostly are things that you could do anytime you're experiencing a flare. Obviously, please check with your local health department and the Centers for Disease Control and Prevention website for updates as COVID-19 concerns continually change.
📝 Make a Game Plan for Covid-19 sanitizing
Designate one person to be your Essentials Errand-Runner
Set up a disinfecting station – could be in your garage or a room just inside your house that others are not allowed in. Here you can change clothes, disinfect packaged food etc.
📝 When you're out
Avoid anyone else and stay at least 6 feet away from others
Use an allergen-free wipe (an EPA approved Covid killer hypochlorous acid cleaner like CleanSmart and a paper towel work great!) to clean the handles of carts while shopping
Wear a cloth mask and possibly allergen-free gloves such as Ansell Micro-Touch NitraFree Gloves
Use a credit/debit card only as cash could carry the virus
📝 Disinfect when you get home
Immediately upon arrival home, wash your hands with allergen-free soap such as Free & Clear Liquid Hand Soap and water for 20 seconds
Take all of the items you purchased to the disinfecting station for Covid-19 sanitizing
If you brought home take-out boxes, remove food to a new container
If you purchased groceries, take them all out of the bags, including produce
Use your safe allergen-free disinfectant spray – I use EPA Approved Force of Nature (read more about Force of Nature here and here) Hypochlorous Acid cleaner – the same as the above-mentioned CleanSmart Hypochlorous Acid cleaner, but one you can make in your own home) and thoroughly spray down all of your groceries. If you have cardboard, another option is to leave them in a disinfecting area for several days and let the virus die. Let your groceries sit for 10 minutes. (check the label of your EPA approved disinfectant spray for the appropriate time to kill viruses)
Once you've waited 10 minutes, I recommend putting gloves back on and wiping down all groceries.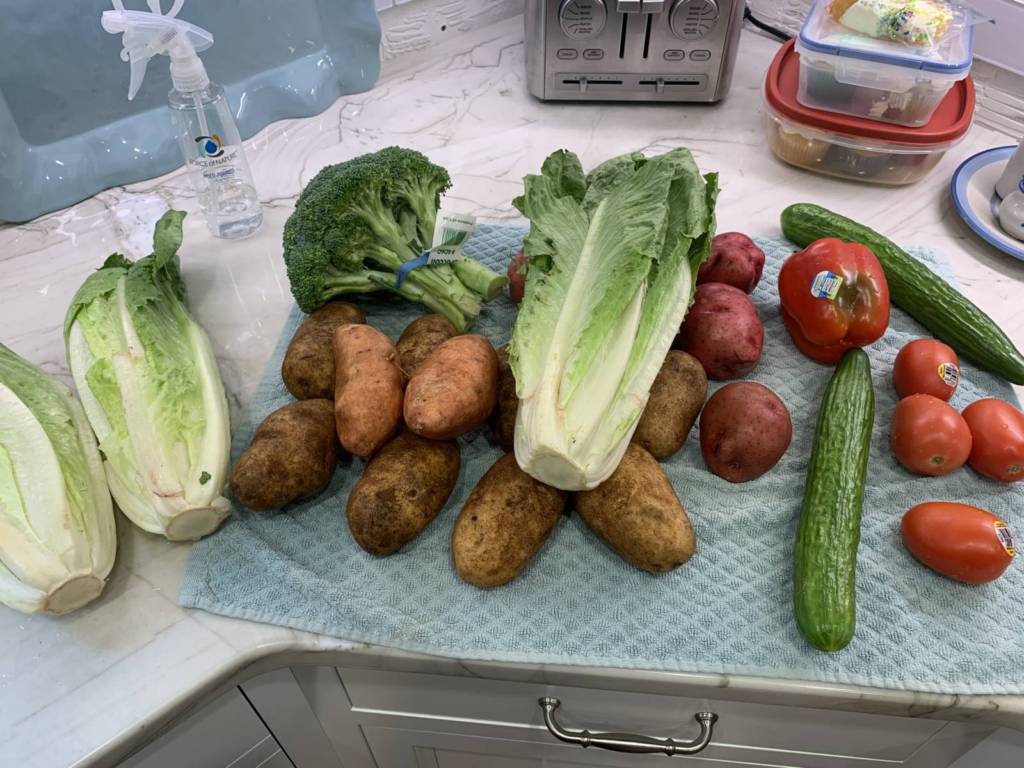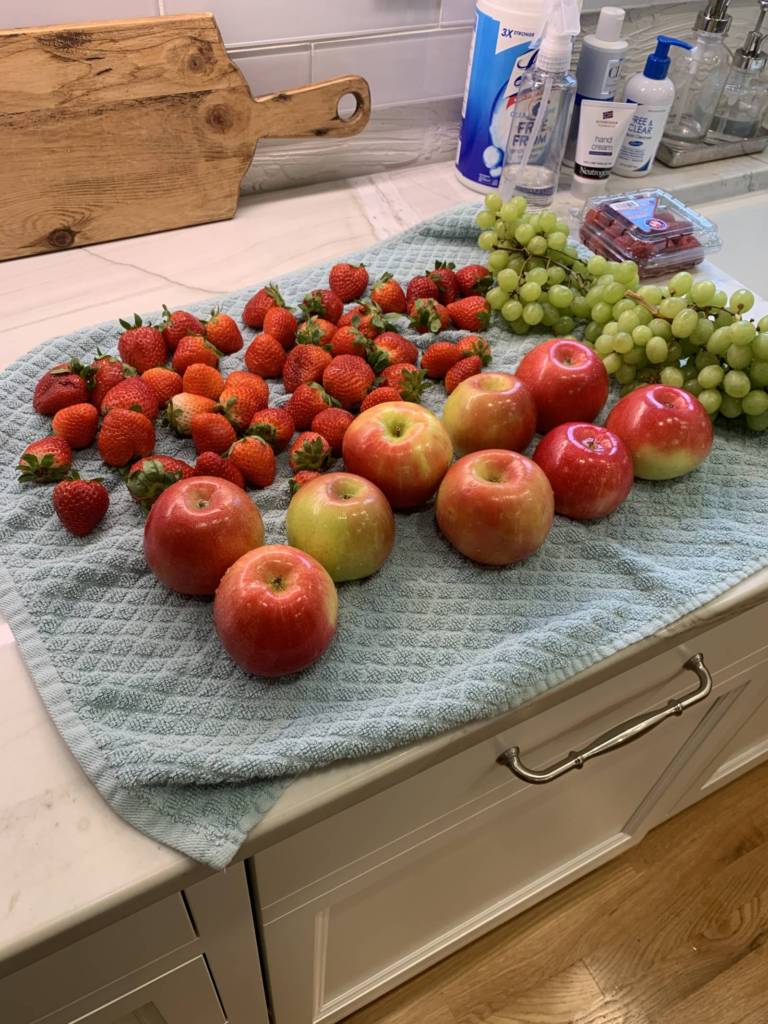 My last bit of advice is to be cautious with hand sanitizers. Not only can they be drying and damaging to normal hands, those us with Allergic Contact Dermatitis – well it can start a whole slew of disasters. Check the labels of any hand sanitizer you desire to use for Covid-19 sanitizing. If it contains fragrance or any of your confirmed allergies, skip it. Hypochlorous Acid cleaners are EPA Approved to kill 99%+ of viruses including Covid. They will not dry your hands and dry to simple saline therefore super safe for you and your entire family.
Knowledge Bit: What is Hypochlorous Acid HOCl? When salt water is electrolyzed, it produces an anolyte solution that consists of >99.3% water, chloride salt, and Hypochlorous Acid (HOCl). HOCl is a naturally occurring chemical that is produced by our neutrophils, or white blood cells, to fight bacteria and inflammation after an infection or trauma. Hypochlorous acid is a weak acid that forms when chlorine dissolves in water, and partially dissociates, forming hypochlorite, ClO−. HClO and ClO− are oxidizers and the primary disinfection agents of chlorine solutions. HClO cannot be isolated from these solutions due to rapid equilibration with its precursor. Sodium hypochlorite and calcium hypochlorite, are bleaches, deodorants, and disinfectants. Hypochlorous Acid is made from salt and water.