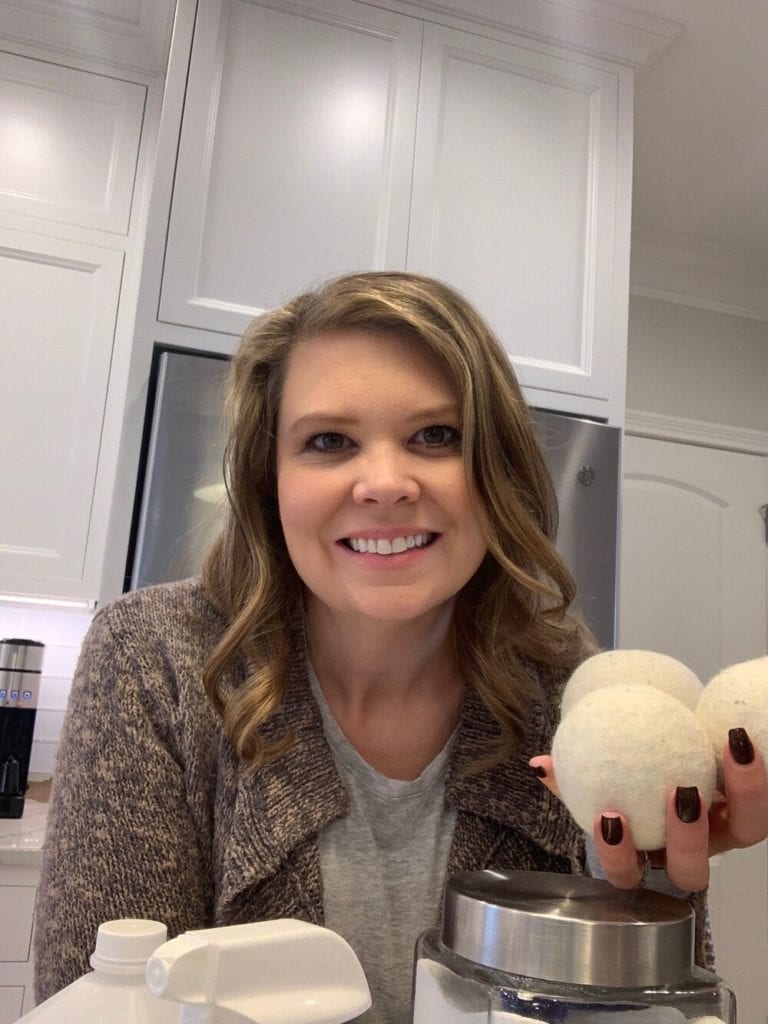 Wool Dryer Balls  cost less than $20 and are really becoming all the rage recently. These three little balls are designed to cut drying time in half and reduce static cling. Unlike traditional dryer sheets, these dryer balls have no chemicals and are reusable for up to 1,000 loads!! I've had mine for almost 5 years and with a family of six, that's a lot of laundry!
Replace Your Fabric Softener
These three little balls I hold in my hand are also the path to NO FABRIC SOFTENER. And for those of us with Allergic Contact Dermatitis, that spells major relief. Fabric softener is full of fragrance and chemicals. Just walk into any consignment store and you'll immediately know what I mean. The stench is real!
I love to buy my children special things on consignment, but lately, I can't even walk into the store. And if I buy things online for them, once they arrive, I can't even touch the article due to the fabric softener. It's nearly impossible to get the stench of fabric softener out of clothes. I soak and then wash and wash and still smell.
Most feel their fabric softener is a delicate scent and presents their clothes as clean and well cared for. However the smell of fabric softener is a strong odor. Many have just been desensitized to their particulr smell. To help you understand, during your next grocery visit, go and smell another brand of fabric softener and you'll probably find that brand smells way off and strong. In reality, all fabric softener smells strong. And guess what, you don't even need it. It adds a coating on your clothes that actually makes them wear out easier and carry more stains.
Replacing Fabric Softener with Wool Dryer Balls
Using Wool Dryer Balls is really simple. Just toss in 3 wool dryer balls at a minimum – for my large loads, I use 6-7 balls – into your dryer with your clothes. While your clothes are tumbling around in the dryer, the wool dryer balls work to separate the items, allowing the air to circulate evenly and more efficiently.  Also, over-drying your clothes can lead to static buildup. Wool dryer balls are absorbent, helping to reduce dryer time and making static cling a thing of the past! You'll love using them.
Cost-effective and Healthy!
Cost-efficient and healthy for you and the environment? That's something I can really get behind. Pair these with my other favorite laundry solution – Nellie's Washing Soda and Oxygen Brightener. Happy Laundry Day!